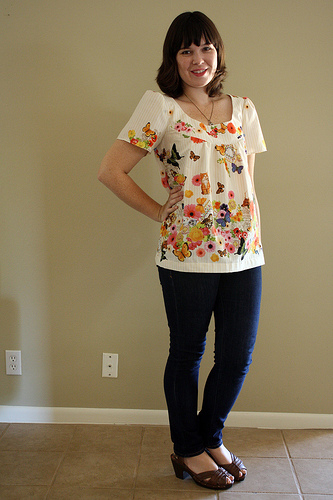 Weirdest Fabric Ever
What's the weirdest fabric you've ever sewn? I think for me – this fabric takes the cake! Its hodge-podge of themes is irresistible and makes me laugh every time I see it.
Its official name is Candy Party Cutie World (not kidding!) and it is very very Japanese. There's flowers, doilies, deer, butterflies, birds and most importantly, kittens! It's like a little girl vomited her wildest dreams all over a piece of cloth!
I bought the fabric from a local indie fabric shop in town and paid a little more than I normally would for fabric but I couldn't resist.
I don't know how often I'd wear this shirt. Maybe to a fun party where I could talk about this shirt instead of having random strangers stare at me and think I'm weird. Ha!
The pattern in version D of McCall's M5388 except without the elastic sleeves. I've made this pattern once before except with a shorter hem and longer sleeves. I made a muslin for this because my first version didn't fit as well as I would have liked. If there's a change I'd recommend for this pattern is that the arm holes are a little snug. I'd like more movement in that area but it's still totally wearable.
This shirt was fun to make and it makes me smile every time I look at it. When it gets cool again and I can wear a jacket around I'll probably be more inclined to wear this shirt without exposing so many kittens and doilies!