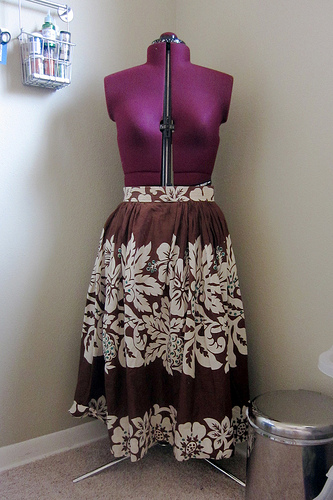 Skirt Restyle Poll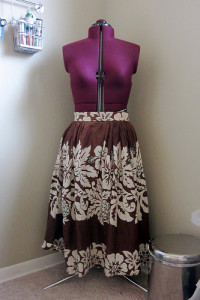 I'm seeking your advice, dear blog readers. Several months ago I bought this 1950s skirt from an antique store. I loved the fabric (it even has little green sequins in it) and turns out it was hand made and pretty well made, at that.
The problem was it didn't fit. Too small in the waist. However I figured I could still do something with all that fabric. The skirt is full and poofy even without any added petticoats which I'm sure the original owner wore underneath this skirt.
It isn't gathered all the way around, only on the sides, leaving the front and back smooth.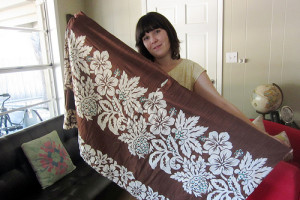 At first I thought I would make a midi length circle skirt design but that was before I snipped off the waistband and discovered that the skirt wasn't a big circle shape and rather a long rectangle. A REALLY long rectangle. In the picture the skirt-sans-waistband is folded in half! It's really double that long! That's a lot of fabric!
So now I can't cut a circle length because that will ruin the lines of the print pattern. Instead I'm asking you, blog readers, to help me out and give me your input as to what I should turn this 4 or so yards into.
I still want to make a skirt from it but I have a couple design options. 1) Midi length gathered skirt, 2) Tea length style pleated skirt which most closely resembles the original design, 3) Knee length pencil skirt, 4) Slightly mini tulip skirt.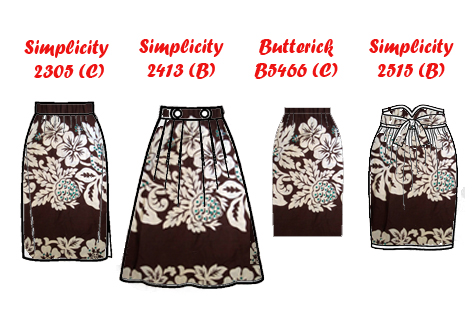 With #3 I'd have enough fabric leftover for something else, although I'm not sure what.
Leave a comment with your vote as to what I should do. Oh, and if you have any other suggestions for designs, let me know!