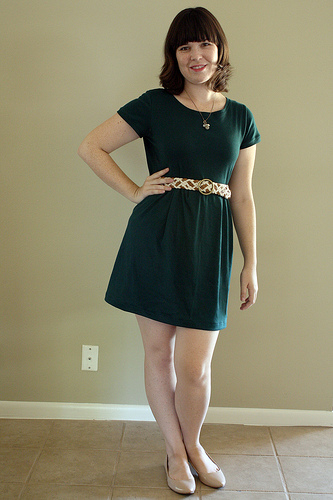 Forest Green Knit Dress
This little green dress was a long time comin'. I began this project way back in April and it was plagued with problems from the start. I admit that all those problems were human error and could have been avoided.
I wanted to create a self drafted easy to wear knit dress with pleats at on the skirt, flutter sleeves and an exposed zipper in back.
The fabric is a deep green interlock. I think forest green is going to be one of my favorite colors this fall, I want to incorporate it into future projects for sure. I prefer interlock or double knit when it comes to dresses more than jersey because I think you need a more weighty fabric on the lower half of your body.
I won't go into the details about what went wrong with this dress (too much!) but as you can see, there's no flutter sleeves or back zip. Plus, after hacking so much at the waistline and serging and re-serging the seam, the waist is a little too warped to wear without a belt (oops!).
But besides that little flaw I did achieve the original goal – a comfy, simple, slip on dress that I wear anywhere. If only it didn't take me months of trial and error to get it to work!
This whole week I have been motivated to pick up those old UFOs again. Sometimes a rest is just what you need to gain new perspective on an old unfinished project. In addition to this dress I've fixed the elastic in an old shirt, re-applied some bias binding on a homemade skirt and finished another UFO shirt. I'm on a roll!