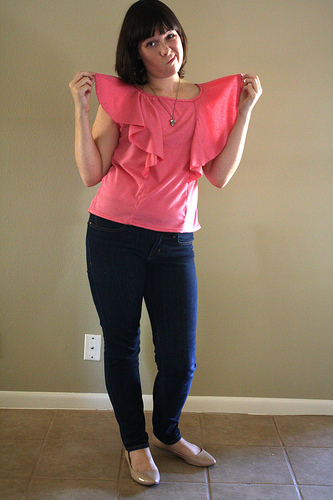 Pink Flounce Top – Simplicity 2554
This is another version of my "what was I thinking" face.
If I was Jack Donaghy and this shirt was Liz Lemon I'd have to say "Good God, Lemon!" (I've been watching a lot of 30 Rock lately).
Excuse me if this is a more philosophical post rather than technical sewing post.
This top is not working. Sure, it's not terrible and it is certainly comfortable. There's nothing wrong with it per-se but I'm just not digging the style.
I saw this pattern in the store and liked the look of the flounce sleeve effect of this shirt (and no, I did not purposefully try to make an exact copy of the top in the photo, I just happened to have a lot of this pink jersey in my stash). However, in real life I find these flutters just plain annoying. I mean really. What am I supposed to do with these things? They never lay – I don't know, what's the word? Normal? Flattering? Un-blob like?
Maybe it is because the flounces are set so close together? Perhaps if they were set more off to the side I'd like it more? Who knows?
So since I've decided I don't like this top I will probably send it to Goodwill and chalk this one up to experience and learning – more experience sewing knits and learning what I don't like.
By now I'm at a skill level that I don't dislike my creations because they don't fit or they have some structural problem. Instead I'm facing the fact that sometimes things aren't my style – like this shirt design. With sewing you don't have the luxury of trying on something ahead of time to decide if you like it. And lately I've bought and sewn patterns that I look good in theory and are disappointing as a finished product.
Does anyone else have this problem? It can be an expensive one and one that I'm determined to learn sooner rather than later because I want a wardrobe that reflects my personal style – a style that I haven't quite defined as of yet…


So here's the question – How has sewing helped you develop your style? Were you interested in fashion before you started sewing? I never was, now I find myself oogling over NY Fashion Week runway photos. How would you define you personal style and how is that reflected by what you sew? Do you feel like you are proficient enough to sew clothes that reflect your style or are you still learning?