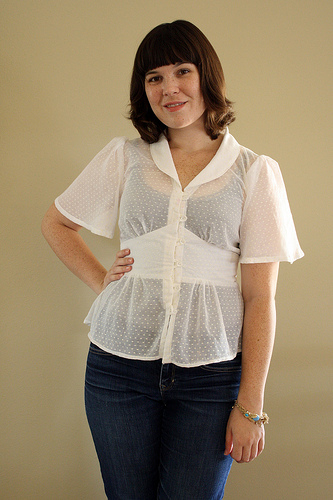 Swiss Dot Sheer Blouse – Simplicity 2610
I bought this Swiss dot fabric online because it was cheap and I was determined to reach the minimum purchase amount to get free shipping. So I didn't know it was going to be this sheer but I made it work!
A couple things I don't like about this pattern – as with the last time I made this pattern, the bottom button likes to come undone. This might have something to do with the fact that my underlap doesn't extend all the way down to that last button. Whenever I tried to line up the underlap it was always slightly too short to cover all the button loops. Maybe I sewed it wrong, who knows? Next time I'll probably add stiffer interfacing to the waist area, as well.
The buttons are raided from my stash – clear plastic circles cut to reflect the light like crystals.
Do you like seeing inside photos? I think some people really love the inner workings of a project so I thought I'd show it this time.
I made a half-*ssed attempt at french seams on the sides and shoulder (which was hard to do because the raw edges were fraying shedding so badly) and serged most everything else. The collar and waist called for interfacing, but I didn't want the interfacing visible through the sheer fabric, so I layered Swiss dot over plain white fabric over sew in interfacing over plain white over a final layer of Swiss dot. Phew! That's thick!
I made this top once before but I much prefer the sleeves on this version and I like the collar, too. I think this shirt is much more my style than the other one but next time I'll wear it with white cami underneath rather than gray.