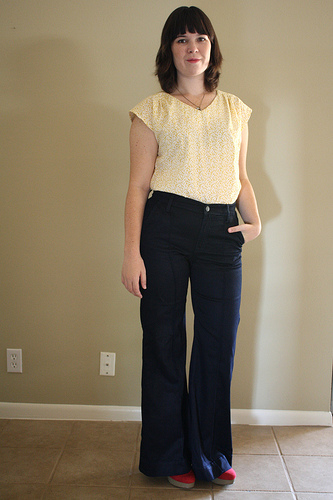 Easy Yellow Shirt – Simplicity 1969
I've said it before and I'll say it again – I am a lazy crafter. To add to that I could also say I'm cheap. This shirt is a perfect example of what I mean…
I noticed lately that I haven't made a dress in a long time and I asked myself "why?" There's a couple reasons for that. 1) Shirts and skirts are faster to make and 2) shirts and skirts use less fabric than dresses so they cost less!
I found this shirt pattern in the new Sew Simple collection from Simplicity. The designs are all simple enough that they don't take too much time to make and there is only one design per pattern not several variations so the cost of the patterns are less than $2 each.
The fabric is a voile cotton from the Lisette collection – fabric made to go along with the Lisette pattern collection from Simplicity.
Another sign of my laziness – I love the style of these sleeves. They make easy cap sleeves with a relaxed look and best of all – I don't have to spend time sewing set in sleeves!
All in all, I love this top! It has fun little pleats in the front and the back shoulder section reaches up and over the shoulder a little bit to meet the pleats. I really like that design idea.
I loved how fast I could make this shirt – only about 2 hours from cutting the pieces to the final stitch. Not bad! I like being able to finish a project before dinner. I really recommend this pattern if you're looking to build more cute, easy to make shirts into your wardrobe.