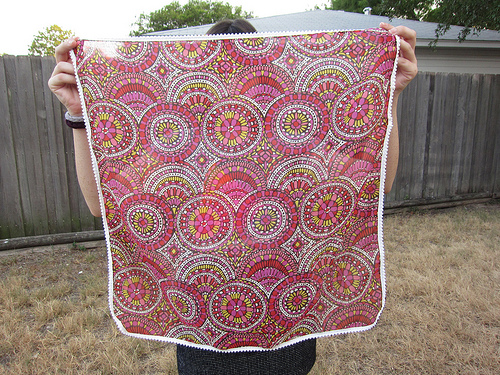 Scarf with trim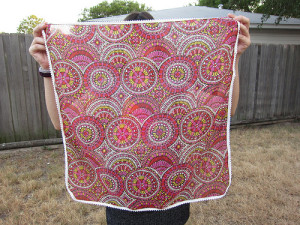 I've been gone for while to visit with family but now I'm back! Funny, because it seems like a lot of my blog reader list was on a little break, too.
I don"t have anything fancy to share this time but I did make a cute scarf.
Right now it's tied to my purse.
I bought this fabric (a cotton silk blend) while I was away on Girls Weekend – a little vacay held once a year for all the women on my boyfriend's side of the family. Thirteen women together in one house for several days. Lots of shopping, eating, group picture taking and a whole lot of fun.
Sometime during the trip some of us got the idea to make purse scarves so we hopped over to the fabric store and picked out our prints.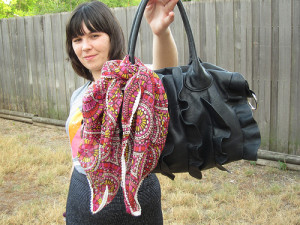 I fly 1000 miles to get away from my day to day life and what do I do? Go to the fabric store. Oh, the irony of my life!
Everyone else made long, skinny scarves but I wanted mine to be more versatile so I made a square. I wanted to used some little yellow trim on the edges of my scarf but the roll of trim I bought was too short so I had to wait until I flew home to finish my scarf using some white trim I had instead of yellow.
This is the first scarf I made but it is a great project for bigger fabric leftovers. My scarf is bout 30″x30″ but you can make it any size.
I liked this fabric so much that I bought 2 yards so I can make something else with it!