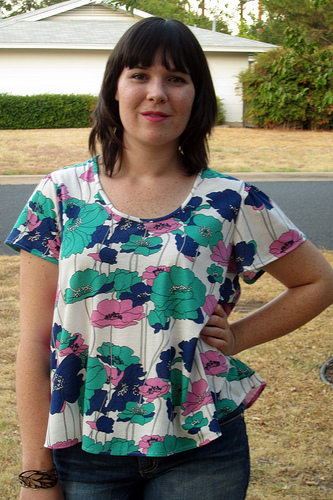 Flow-y Floral Summer T-shirt
I love t-shirts. So comfy and easy to wear. And I especially like "dressed up t-shirts." It doesn't have to be anything fancy, maybe a different neckline or gathered sleeves or a fun print. Something to make a shirt a little less plain.
I based the design of this shirt on Simplicity 2261 which I used last week to make this green t-shirt. Really, I used the pattern for no other reason than the pieces were still out on my cutting table and not folded up in the envelope. I'm lazy like that. The point is you can make this alteration to any ol' t-shirt pattern.
See, the way this shirt gets it's flow-y-ness is that I cut the shirt more of a triangle shape along the sides.
I've really liked the oversized t-shirt look lately but whenever I try shirts like that on in the store I just feel swallowed in them. Then I realized it wasn't the "oversized all over" style I really wanted but more oversized, loose looking towards the bottom. When the shoulders and neck are still fitted normally but the rest seems more oversized, then that's the look that I like.
The idea is simple. Take this drawing below for example. Lay down your t-shirt pattern piece (black outline) line it up on the fold like you normally would. Then tilt the bottom away from the center fold, pivoting at the center neckline point. Next draw a new side seam (pink line) that extends further away from the side edge of the pattern piece. Make sure your side seems are the same length on both front and back pieces. Finally draw a new bottom line, blending into the original bottom line on the pattern piece (green lines).
The end result looks like this when flat.
As for the other details – the fabric is from Hancock Fabrics, some cool, retro style print poly blend jersey. I made the sleeves from the pattern about 1 in longer and I cut the neckline to be more U-shaped. For the neck opening I made a binding out of leftover fabric.
I love this shirt because it's comfortable and loose on these super hot 100+ degree summer days! Now I've made two new tank tops and two t-shirts from knit fabric for this summer's wardrobe rotation. Oh, and yes, that is the actual color of my yard. A nice crisp, Texas shade of brown. Thanks drought! (Can you tell I'm a little tired of this summer heat???)