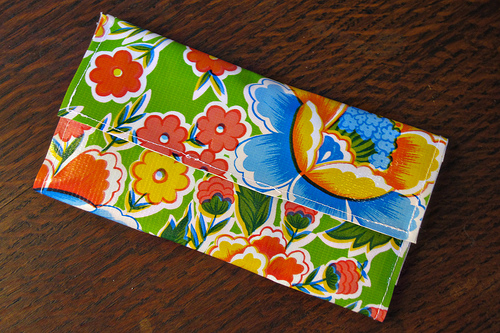 Oil Cloth Wallet
I've been sewing for how many years now? 8? 10? And I've never sewn oil cloth before today.
For some reason I got it into my head that I wanted to make a wallet today so I went to the store after work and bought some fabric. Ever have those spontaneous needs to create?
This pattern is one I whipped up myself although it ended up simpler than I originally designed (my machine kept jamming with too many layers of oil cloth, at least, that's my conclusion).
My one problem – I used a magnetic clasp for the closure on the wallet and I didn't position it well – too far away from the edge of the flap.
Now, I blame this partially on how I adjusted my original pattern idea because all those layers jamming my machine. It threw off my perfectly designed closure plan and by that point I'd already punched my holes so I was committed. Oops. But the thing still works so I'm gonna use it.
I like the oil cloth because it's flexible but not floppy and it's pretty easy to keep clean. And this wallet is a little shorter than the last one I made so it fits in my new smaller purse. Cha-ching!