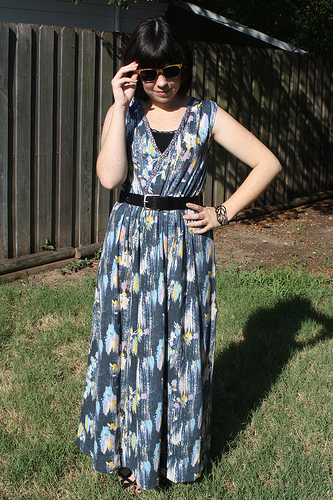 Maxi Dress Done!
Wow, that was quick. I finished this dress in only about six hours and I'm quite happy with it!
And it's my first maxi dress I've owned, let alone made and it is oh so comfy! I can see why people love this style for summer – breezy, light and you get the benefit of wearing a skirt without having to worry about shaving your legs. 😉
I changed the original pattern (Butterick 5489) by adding elastic at the waist (elastic which I salvaged from an old fitted sheet – yay recycling!) and lengthening the bodice by an inch (the pattern is cut to be slightly higher than your natural waist).
One problem I had was sizing. Normally I'm a size 14 but I always cut a 12 with patterns. But while buying the pattern I thought – is this logic the same with knit fabrics? Knit patterns usually have much less built in ease. I was worried that this time a 12 would be too small. I was wrong. The 14 is a little too big and I should have bought the smaller size. Ooops.
What's worse is that Butterick only sells their patterns in two size packets – 6 to 12 and 14 to 20. So that means I don't have a size twelve to cut from. Sure I could size my 14 down but I'm too lazy for that. 😉
I like Simplicity because they have a packet that includes both 12 and 14 in one so I can choose at the last minute what size I want to use.
I also used different trim from my inspiration. I bought this cool purple-y and green trim at a local sewing store. I really like it and as a bonus it is straight which makes it easy to machine stitch in place.
Also, I bought new sunglasses (they're wooden!) which work great because you can't see me squinting in the morning sun. I really need to find a new place to take pictures but there's no good spot in my house. At least not a clean spot…