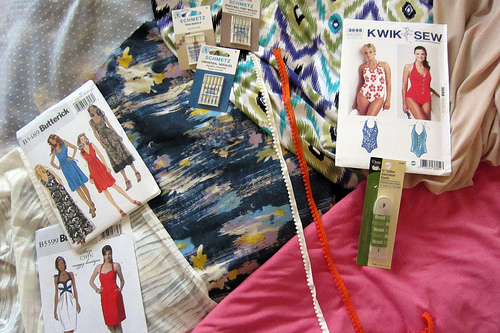 Shopping Spree
This is a first for me – I bought fabric online. I have never before done it because I like feeling the fabric before I buy. You can't do that online but since I figure I have enough experience with knit fabrics by now I decided to give it a chance and ordered some fabric. And then because if I bought more stuff I'd get free shipping I loaded up my virtual shopping cart.
Not everything in the photo below was ordered online. Hancock fabrics was having a sale on Butterick patterns and I needed to pick up more stuff that was on sale anyway. And on the walk down the store isle to that "more stuff" I found this awesome pink jersey on super sale and next thing I knew I was broke (just kidding, but my wallet did take a hit!)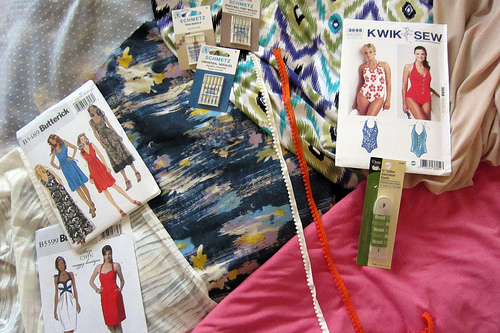 Clockwise from the top left –
Super cheap (and super sheer!) Swiss dot from fabric.com. Thinking about using it to make an anthropologie inspired dress.
Abstract floral jersey from fabric.com. Going to me a maxi dress but more on that later.
Assorted machine needles from Hancock. Because that darn quilt busted up all my needles!
Ikat knit fabric from fabric.com to go along with the Kwik Sew pattern, the flesh tone swim suit lining and the swim elastic (all from Hancock). Once I buy some foam bra cups I can start working on that swim suit I was talking about.
Super soft pink jersey from Hancock Fabrics. Thinking about making a maxi skirt but more on that later as well.
White and orange trim from fabric.com. At this point I was just trying to reach my free shipping total, ha!
White burnout jersey from fabric.com. Same as the trim – I thought, why not? It's cheap, I'll just buy a yard. Maybe I'll make a cool layering top out of it?
Butterick 5599 and 5489 – just stocking up while they're on sale.
I normally don't buy this much fabric at one time. Nor do I often buy fabric without a pre-set plan already in mind (like with the burnout jersey and swiss dot). Have you ever bout fabric online? Any top picks for fabric sites? Do you ever buy fabric "just 'cause" without a pattern or idea for what to do with it ahead of time?