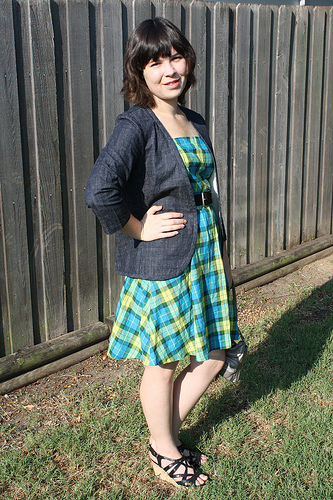 Kicking off Me-Made-June a little late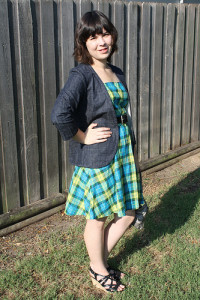 (dress – made by me / blazer – made by me / shoes – dsw / bag – dsw / belt – gap)
I have survived my move! Well, most of the move. We still have an apartment garage stuffed full of boxes and an apartment to clean but last night was our first night in our new place. (Look at me! I have a fence!!)
My moving wardrobe consisted of shorts, old t-shirt and Toms, not exactly MMJ post-worthy so to start things off for real I wore not one but two Me-Made pieces to work today.
The jacket you've seen before, it's a Simplicity Cynthia Rowley design, but the dress I've never featured before.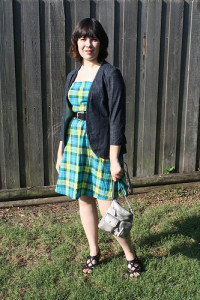 I made it a couple years ago after trying on a similar style dress at J. Crew (same plaid color scheme, too) and thinking "I could make that." Suuuuree. My design from scratch skills back then weren't that great.
The skirt is a partial circle skirt and the top is based on another pattern but I don't remember which. It has straps but they were too long so in my sewing wisdom of two years ago I just pinned them to the right length at the shoulder and stitched rather than re-sewing them where they attach to the bodice.
That fail meant I never wore this dress much nor did I ever fix it. So to salvage it I wore it with a jacket and a belt.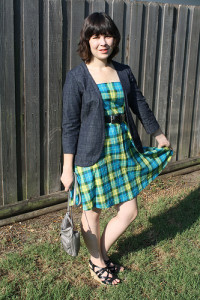 For some reason I wanted a higher than normal waist line but not empire so the waist is somewhere in between. Makes wearing a belt a little wonky but whatever. I didn't even hem it originally. Instead I used that iron on stitch witch stuff for a smooth hem.
I'm wearing earrings but you can't see them in these shots. All my other accessories are still packed!
Hopefully tonight I can do a few loads of laundry (this place has a dryer, whoo!) so I can have more items to pair with hand made clothes in the next few days.