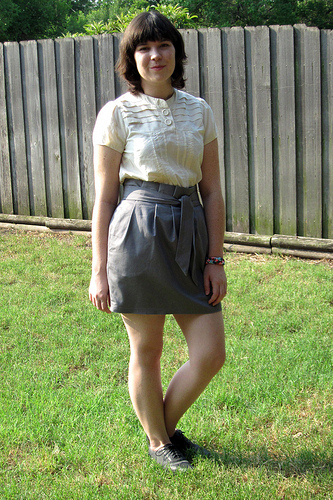 Me-Made-June Day 6 and a Restyle
I'm continuing Me-Made-June a little out of order. My weekend photos turned out bad so I'm probably going to cheat and re-wear my outfits just to take new pics. Turns out my auto-focus on my DSLR lens is broken but I couldn't tell until I saw the photos on the big screen. Ugh.
So I'm skipping to Day 6 which features not only a skirt I made but a quick restyle (and my first sewing project in my new craft room!).
This pale yellowy-cream top used to be a big billowy dress that I bought at a boutique in town a few years ago. I also bought a belt to go with it.
But belted the dress was way too short and un-belted it was so tent like and looked like a baby doll dress to the extreme! I probably only wore it three times before packing it up.
After unpacking at the new house I rediscovered it and thought I could make some quick alterations to save it from the Goodwill pile.
I hemmed it shorter, cut out the lining (which was sewed in pretty poorly) and continued the small vertical folds all the way down the front and back of the shirt to alleviate some of the puffiness.
Much better! I'd like to say I'll be wearing this a lot more not but while sewing I noticed many more construction issues with this dress turned top.
Some of the threads are pulling out and the stitching in general is sloppy and the fabric itself is ripping at a couple seams. Looks like this was never a well made dress to begin with.
I think sewing has really helped me to pay closer attention to details in store bought clothes and just because clothes come from a cute little boutique doesn't necessarily mean they are made any better than something from a cheap clothing store. Has this been the case with you?