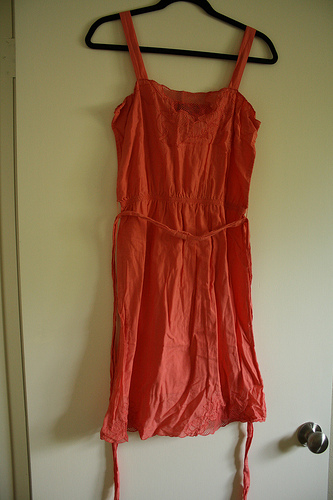 Dress to Tunic Restyle and Me-Made-June Day 12
This dress was another garment packed away from two moves ago that I finally brought out of it's box. I had a love hate relationship with this dress. I thought it was cute and I liked the color and the flower detail but unfortunately it was a little small.
The waist elastic was always too tight and the dress was relegated to the back of the closet to be lost with the winter coats and bridesmaid dresses.
So to save it I cut out the elastic and transformed it into a tunic.
I used a raglan sleeve pattern from my Built By Wendy Dresses book for the basic shape. The dress had two layer – a semi transparent over layer with the flower detail that I used for the sleeves and the main bodice of the tunic was made with the more opaque under layer from the dress.
I carefully cut out some of the flowers and crochet bits from the front and hem of the dress and replaced them on the sleeves and front.
For the edges of the sleeves and neckline I sewed a very tiny zig zag stitch which mimics a rolled hem, I think. I'm missing the attachment on my serger to do a rolled hem. Lame, but the zig zag works!
There was one unavoidable problem – since the dress was a little small, so is the shirt. Mainly in the bust area. Luckily the flower detail in front helps to disguise those horizontal lines you get on the bust (although it is still a little apparent).
Since this shirt is still a little small I may give this top away. I need to find a skinny friend who'd want it. That or I'll have to lose weight but I doubt that will happen!