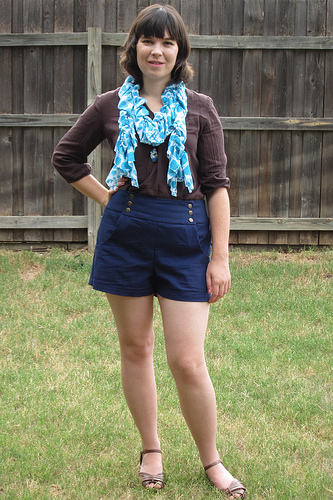 Shorts! Better shorts! And Me-Made-June Day 16
It feels good to cross things off your to-do lists, right? Well, that's what I did yesterday. I finished a pair of sailor style shorts that are AWESOME!
You may or may not remember that I finished my first ever pair of shorts in January from pieces that had been cut out years before that. Well, those were ok shorts but really sometime between January and now they shrunk. Or I got bigger. Or I just never admitted to myself that they were one size too small to begin with. Most likely the latter.
But these shorts are much improved! It's a Kwik Sew 3854 pattern that was difficult to find. Only one store I went to carried Kwik Sew and the patterns aren't on constant sale like the Big Four. Errr, I dislike paying full price for patterns. I may buy my future Kwik Sews online for a better deal. Know of any good places to find them?
I cut a size medium and it was pretty much perfect. I only made one adjustment to this pattern – I narrowed the inner leg seams by about 3/4in to alleviate too much fabric bunching up and rubbing on itself, know what I mean?
I used a medium-light weight navy twill fabric and I bought three types of buttons to choose from but settled on these metal ones. And best of all, it has a front button open so no zippers!
And I like the high waist style. It makes them feel more like a skirt than shorts.
Overall the pattern was simple and easy to follow. I didn't have any confused moments other than trying to figure out which side was right and wrong.
This being my Kwik Sew pattern I'm pretty impressed! Especially with the easy fit.
Oh, and lookie what I got! I won this lovely scarf from Rachel at Always a Project. I love the pretty print and the ruffles. Too bad it is rediculously hot outside right not but I'll probably wear it on a night out to a movie or dinner. Somewhere that has A/C and I know I'll be cold. Thanks Rachel!!