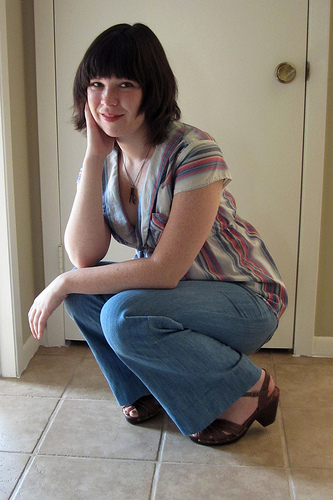 Me-Made-June Day 7 and 8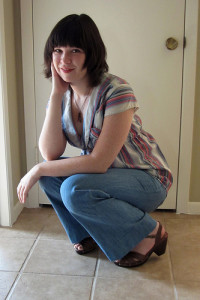 (
day 7
: shirt – buffalo exchange although I believe it is restyled vintage /
jeans
– made by me / shoes – jellypop @ dsw)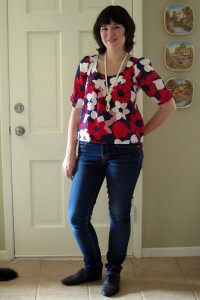 (day 8: top – made by me / jeans – gap / shoes – strut, local austin boutique / necklace – vintage / fluffy cat tail in the corner – peanut)
While unpacking I've re-discovered so many missing clothes that I had packed two moves ago. Even though I sewed this top about two years ago it was never blogged and I probably haven't worn it in over a year either.

I made the top with McCall's M5388 but added slightly longer sleeves.
Unfortunately, it is about one size too small. This was before I settled on a size I usually make. Nearly all major brand patterns I use are too big if I go with the pattern measurements. Too much ease built into the pattern. If the pattern says I'm a size 14 then I'll make a 12. I Must have guessed and made a 10 with this shirt.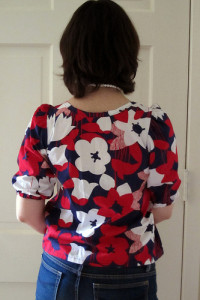 It is also a wee bit on the short side. I remember that this fabric was leftover from a dress that I made. I wonder if I just didn't have enough fabric left to make the full length so I just used the longest pieces I had.
Also, the stitching is a little wonky, especially on the back part of the collar. Since this is the same fabric I used for this dress I have the same problem with the color running. It isn't nearly as splotchy as the dress but there are white bits with a pink tinge to them.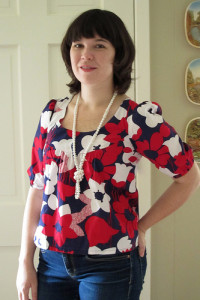 I really like this style and the pattern. I'd probably give the pattern another go sometime in the future if I find a good fabric and make it one size bigger.
*** Also, I'm switching my hosting account from my old personal domain name to dixiediy.com so pattern downloads will be disrupted for about a day so I can get all of the links fixed. Sorry for the inconvenience but they'll be back up soon!