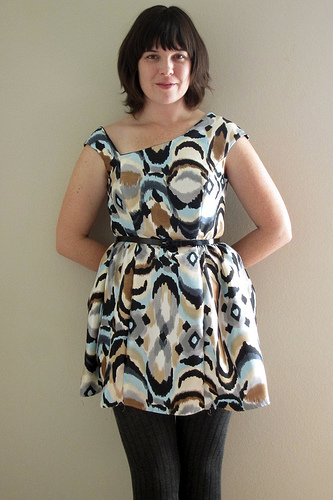 Cute Cocktail Dress Disaster – Burda 7514
I am feeling a little deflated after making this dress. I blame Harry Potter for distracting me from my sewing for so long that by the time I got back to working on this dress I almost lost interest.
But I trudged through. This dress wouldn't have been so bad if it wasn't for a little detail. It's too short. When I worked on my muslin it didn't seem so short but this fabric is much thicker and doesn't drape like the cotton muslin fabric I used. In the final version the fabric sticks out much farther from my legs and seems waaaaay too short – hence the tights in these photos.
Maybe I could salvage it – add some lace along the bottom, only wear it with tights – eh, but right now I'm just tired of working on it.
I am so tired of this dress, not only did I not bother to fully hem it or insert the lining properly but I didn't even bother to photoshop out the plug in these pictures like I normally do. You can add "trying to smile nicely" to that list, too. That's how lack luster I feel about this dress, ha!
Maybe I can walk away from this dress with a few lessons learned – like I really shouldn't make fancy dresses unless I have a reason to wear them, otherwise I will never wear them. And don't put projects away thinking you'll get back to them because I just won't have the same energy again. And another lesson I keep telling myself – stop sewing slippery fabrics! It's just not worth it even if the fabric is pretty!
Oh, well. I'm moving on. I'm thinking of tackling some shorts next seeing as it is summer time. Or maybe that 70s dress I've had on my to-do list for ever.
But I hope I can sneak in a new project before I move because, oh yeah, part of the reason I've been MIA for the past few days – we're buying a house! And that means I must pack! So that's what I've been doing in between frustrating sewing sessions. So, sorry for being absent but you might have to put up with more of that this week as we're moving soon! Eeek! Speaking of moving – I need to transfer my internet asap!