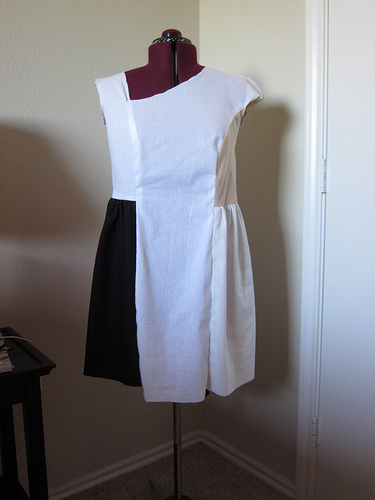 Asymmetrical Neckline Dress Muslin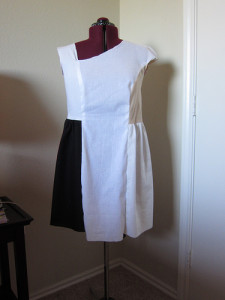 Another item on my ever growing sewing to-do list – I've made a working muslin for this Burda 7514 dress. And in true Dixie fashion I used (count em!) 5 different kinds of fabrics for this baby. Oh, and please ignore my poor sewing – it is just a muslin, after all.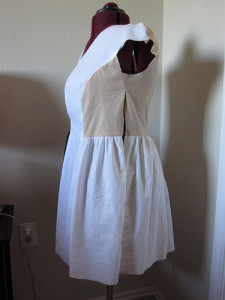 Room for a side zipper under the arm.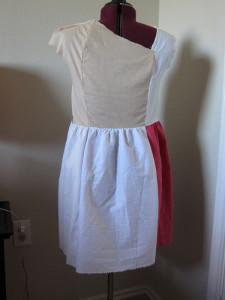 I was bad and didn't bother copying the marks from the pattern pieces to my fabric pieces so the back bodice is a little wonky.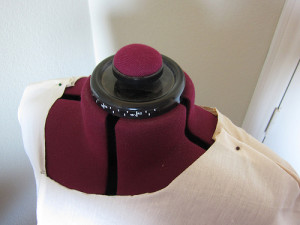 I'll make a few changes for the final version. The fit is pretty good except I'm going to add some width to the shoulder seam allowances. The skinny strap likes to slip off my shoulder and the bust line is giving me the dreaded lumpy boob. Raising up the dress slightly alleviated that problem.
I'm also going to change the skinny strap to mimic the cap sleeve on the other side. I'll keep the asymmetrical neckline but I really have a thing for cap sleeves.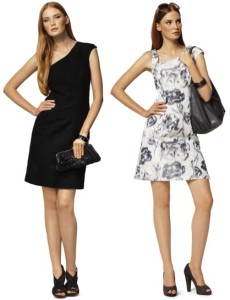 You'll notice that my dress doesn't look exactly like the pattern picture. That's because I made a number of alterations.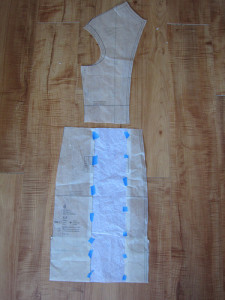 First I shortened the bottom of the dress by a few inches partly because I like mini dresses and partly because I'm too lazy to make a side slit in a dress (although, I realize that with a gathered skirt I probably didn't need a slit anyway). I just folded the bottom of each piece so I didn't have to cut it.
Then I sliced each piece along the waist line (three pieces in front and three in back) with the exception of the center front piece. For the muslin I didn't bother to add seam allowances where I cut (which is why the center front piece on the muslin is a bit longer than the other pieces) but I will for the final dress.
Then I slashed the skirt half of each piece along the grain line mark (so I knew I had a perfect straight line) and added 4 inches in the middle to make the skirt portion gathered (a good way of using up excess pattern paper that comes with store bought patterns). Then I attached each gathered skirt piece back to it's respective bodice piece and sewed everything up according to the instructions.
The final dress will have at least a bodice lining. I haven't decided if I want to line the skirt – all that extra fabric gets hot in the Texas sun – but I probably will add pockets because dresses with pockets are awesome!
I worried it would be too big because most patterns add way too much ease for my liking. Since I've only made a knit fabric Burda pattern before I went with a size 12 and hoped for the best. Lucky it fit great except for the shoulders but that's an easy fix.