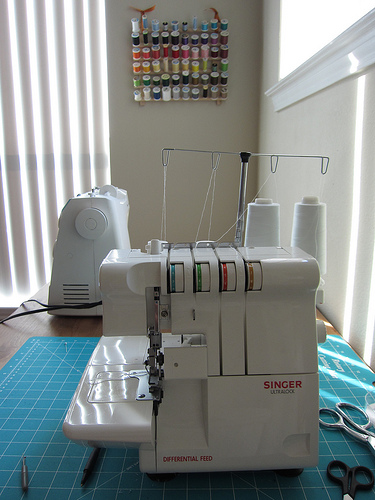 Do I really need a Serger?
I'm introducing a new series on the blog called Do I really need…? where I give my opinion on the pros and cons of something sewing or craft related. I'm hoping this will be a once a week feature. If you have any ideas for future Do I really need? posts tell me in the comments! So, onward we go –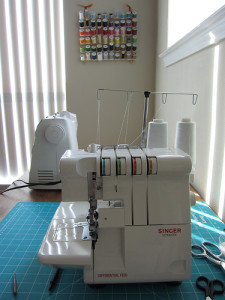 (my serger, with my sewing machine at the other end of the table)
Do I really need a serger? I've heard this question asked often on the internet by beginner or intermediate sewers who want to take their sewing to the next level and it's a good thing to consider.
The short answer is no, not really. The long answer is, well, maybe. It depends on what you want to do with your sewing and what benefits a serger can give you.
A serger or overlock machine is like a sewing machine with three or four threads that wrap around the edge of fabric and prevents it from fraying. Look inside any store bought garment and you'll see a serged edge.
This isn't going to be a post about what brand or features to look for when buying a serger. If you're still contemplating whether you need one then we haven't gotten far enough to go on a shopping trip.
First, ask yourself a few questions:
– How serious am I about sewing? Do you want to make clothes that look like ready to wear from the store or are you fine with quick and easy cotton skirts? Do you sew mostly clothes for yourself and others or are you more into crafts and home decorating projects? Do you want to sell your clothes like on Etsy or is it purely a hobby?
If you answered yes to the former halves of those questions maybe you should consider getting a serger. If you plan on selling clothes a serged edge looks professional and is easier and faster to do than a French seam, for example. If you're making clothes for your kids on the other hand, they'll probably out grow the clothes so fast that taking some pinking shears to the seams allowances will be fine.
– Are you sewing with knits?
Yes, you can totally get away with using a zig zag or stretch stitch on your regular machine for knits but if you sew knits often (like me!) a serger is the way to go. With knits a serger is incredibly quick and easy to sew seams.
– How lazy are you?
This question can go either way. Because a serger sews and finishes the edge in one fell swoop it can make you a speed queen! Hemming a skirt is faster when you serge the raw edge then fold under once and top stitch rather than folding and measuring and pressing the hem twice to enclose the edge. You can sew shoulders one after the other without stopping and clipping dangling strings.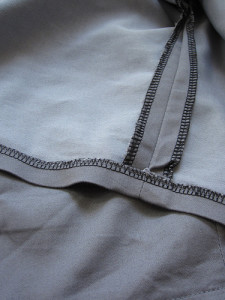 (example of a serged hem folded and topstitched as well as serged seams on both sides of the seam, inside my paper bag skirt)
But there are still times when it is important to sew a seam with a sewing machine first. In that case you would take more time to serge the edges either together or by opening up the seam and serging either side individually as compared to just using pinking shears. I don't always use my serger on seams for that reason.
Also, while threading a serger is not the 7th level of hell that people often make it out to be, it is annoying and time consuming and you'll probably need a pair of tweezers handy. Changing colors on my serger has definitely weighed in on my decision to serge an edge or not…
What can a serger do that my sewing machine can't and does that matter?
One thing a sewing machine can't do – rolled hem. If you ever have to work with very delicate fabrics, something flimsy and slippery and sheer, you'll appreciate the rolled hem feature. It is basically what it sounds like, a tight overlock stitch that rolls the hem in on itself ever so slightly. It makes a great finished edge for bridal gowns and fancy dresses. A serger can also do things like gather or stretch the edge of a fabric, pretty cool when you're doing a flounce or ruffles. If you buy what's called a cover stitch machine you can make those double top stitches you find on the hems of your t-shirts. Oooh la la, very professional!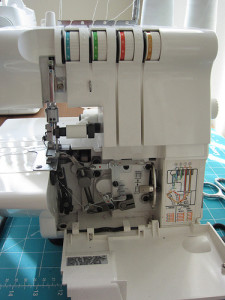 (under the covers of my serger. it gets a little dirty in there. you can see the threading guide on the far right and the nob where you stretch or gather the fabric to the left of the guide)
What can you do about it?
Sergers can appear pretty foreign if you've never used one. See if anyone in your area offers a serger class where you can use or rent their sergers. If you decide not to buy one, well, it's not big loss but if you do buy a serger you'll already know how to use it!
Do you know a friend or relative who has one? That person could let you mess around on the machine to see if it is something you truly need (maybe she'll even let you have it!!).
Sergers are a significant investment for the home sewer so if you decide to get one perhaps you should go used first. If you do buy from a local shop or person. You can make sure you get all the necessary parts (my used serger was a gift and missing a couple pieces), make sure it works and they might even show you how to use it.
My Serger Story
My serger is a Singer four thread machine which was given to me by a cousin who hadn't used it in years. In fact I doubt she had even used it more than once or twice because it looks brand new even though it must be at least 15 years old.
While I can't complain about free I did discover that my serger is missing a couple pieces (like the metal plate needed to make a rolled hem, boo) and no matter what I've tried the tension bar in back won't raise up any higher than a few inches meaning I have to wrap the far right thread around my right pinky while sewing to keep the necesarry tension. Not so good, ha! I also accidentally threw away the plug for it while moving. I thought it was the plug to an old sewing machine. I had to use a different one from then on. But the thing still works!
If you do decide you need a serger I hope yours is in better shape than mine! Stay tuned next week for Do I really need to take a sewing class?