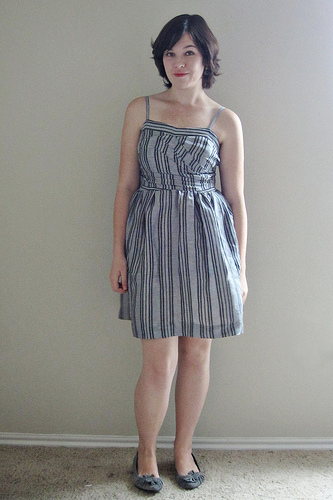 Cynthia Rowley Botched Striped Dress(Simplicity 2250)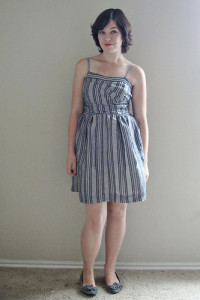 Have you ever been halfway through a project when you suddenly realized that it is going to be a disaster? At that point you must decide whether or not to continue and hopefully learn something from the mishap or give up on it completely and move on. In addition you are reminded why you really should have made a muslin.
For this dress I had that exact experience and I decided to trudge through it.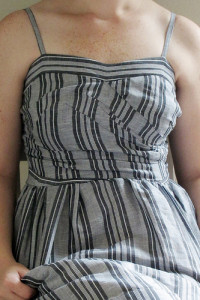 I should explain that when I first bought this pattern I thought the bodice was made up of mostly gathers. Turns out it's all darts and after sewing up the bodice I realized it was a hot mess and it only got hotter and messier as I sewed the rest together. Other than the sloppy bodice the fit is good but the details annoy me.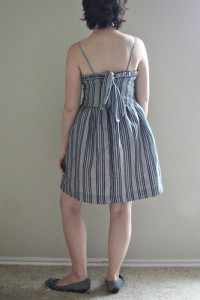 There seems to be no way to tie the flaps on the back in an acceptable fashion and the bodice front was longer than the bodice lining no matter what I tried to do. So I just sewed the skirt to the level of the lining which made the bodice look funky and also makes the skirt look too high and uneven at the waist.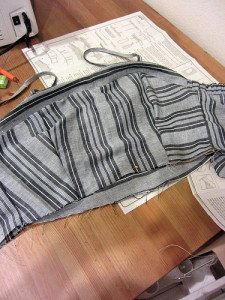 uneven bodice at the bottom
The fabric is a linen look (meaning it's got polyester in it) that I bought on sale at Joann.
Maybe if I used a horizontal stripe fabric rather than vertical I'd like the bodice more but the bodice also has pleats in places and those look so much better than the darts so maybe it's just the pattern?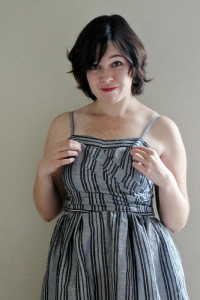 this is my "what was I thinking" face
I hoped it would be better when all the pieces were together but the final result is still a disappointment. Apparently Simplicity thinks my boobs ought to be three inches higher because the bodice is so bunchy right there (as you can see me pulling on the fabric in the pic above). Lumpy boobs is not a good look for me.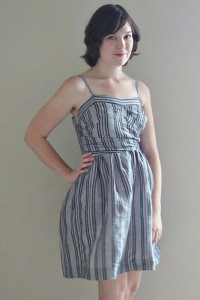 The skirt design is made up of several random sections of pleats mixed with gathers but after accidentally sewing the skirt on to the bodice inside out (a mistake made after realizing how bad the bodice was) I had to seam rip it and reattach the skirt. After that I didn't feel like being so exact about all the gathers and pleats so I just made it fit.
Maybe I'll re try this dress again someday only next time I'll gather and pleat the bodice to make the same effect and hopefully I'll get a better fit. Oh, well. At least this was a learning experience for me.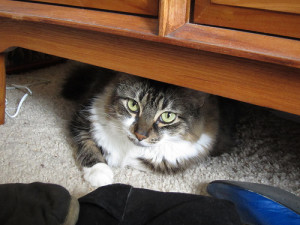 Even Peanut thinks it's a hot mess and Peanut is never wrong…