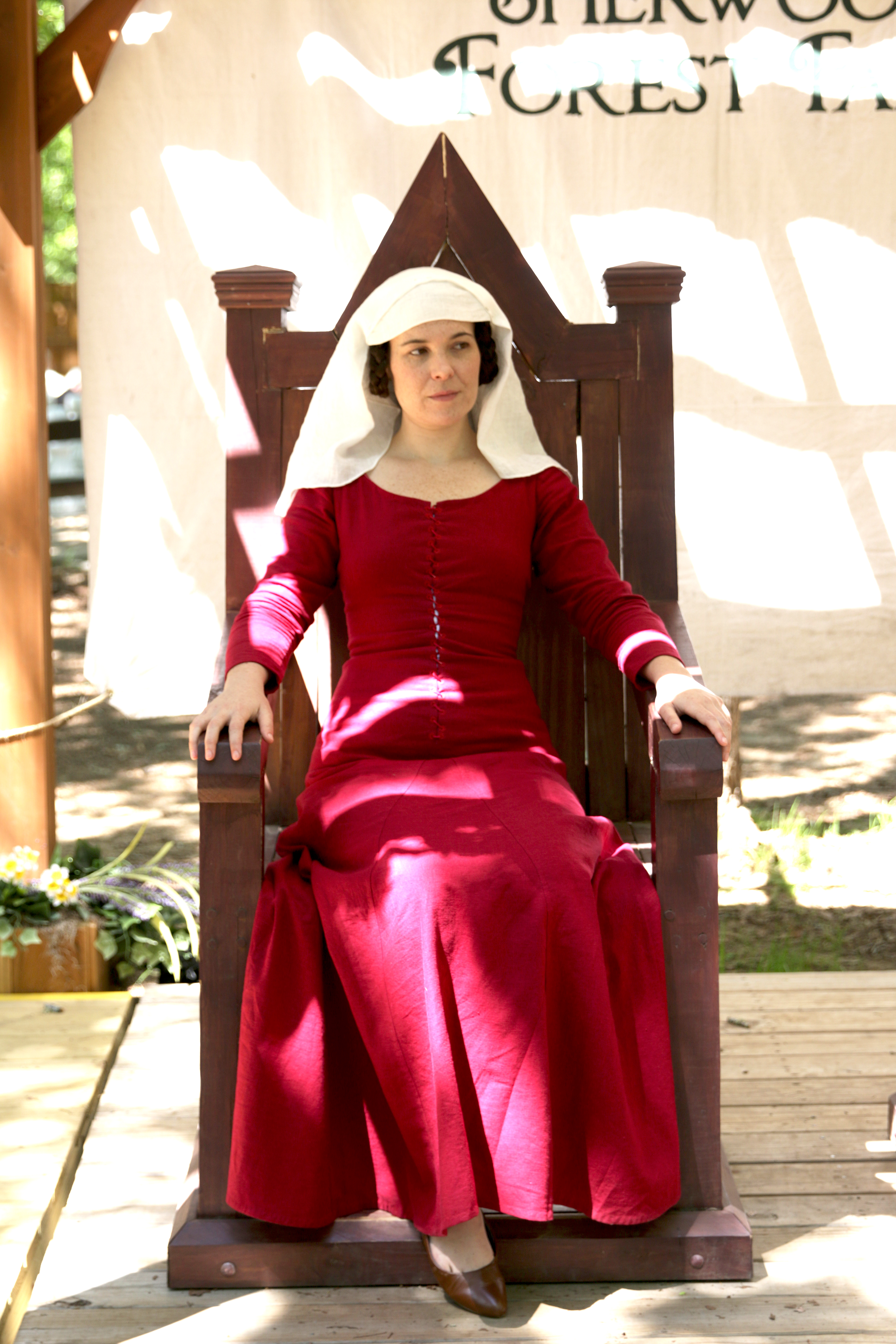 Mid-1300s Kirtle and Veil
There's nothing like a strict deadline to motivate you to finish a project. That's what I gave myself for this newest historical costume. To celebrate my birthday I decided to visit the Medieval Faire near Austin and of course, I needed clothes to wear.
The Faire I went to is themed more toward the European middle ages than the Renaissance so I went with something in the middle – the 14th century. Plague times, yeah! Woohoo! What, no cheering for the bubonic plague? Ok, whatever…
The distinctive features of this era of dress are full-length gowns (called a "kirtle") with gores in the skirt to add fullness, no waist seam, with a broad neckline, and a bodice that is tightly laced to the body.
This time period was a transition between the looser garments of the early middle ages and the highly supported bodices of the Renaissance period (and what we like to think of as early corsets).
This fabric sat in my stash for years(!!!) with the intention of becoming a kirtle but never got around to it because the idea of drafting a kirtle pattern from scratch seemed so daunting. You have to get the fit just right so that the tight lacing supports the bust but also doesn't gape.
I've seen people use this tutorial in which a helper squeezes and pins fabric around your torso to make a bodice pattern. But I don't have any costuming friends nearby who could do this for me.
Instead, I went with what I knew – flat pattern drafting. I took measurements. A ton of measurements! Both vertical (shoulder to bust, underarm to waist, shoulder to wrist, etc) and horizontal (high bust, full bust, underbust, shoulder to shoulder, etc) and using those, I drew a "curved-front-seam" bodice pattern.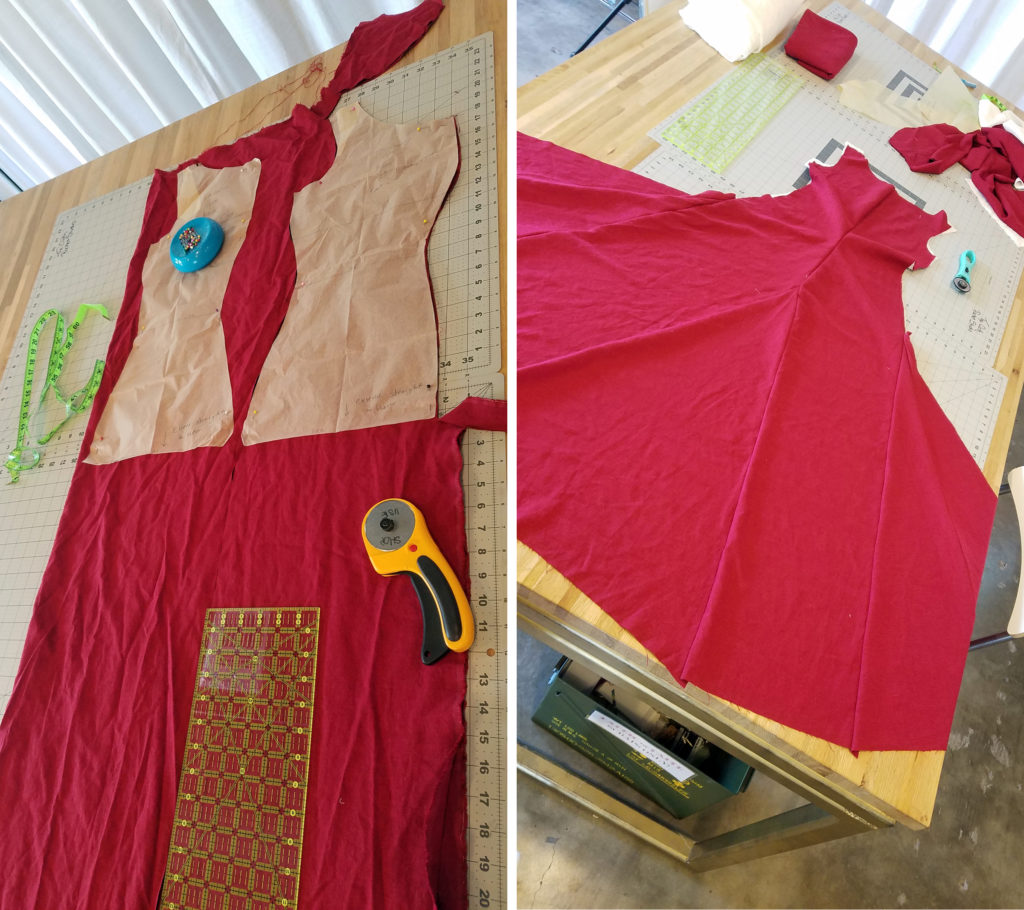 The bodice section is lined with white linen, same fabric as the veil. I didn't line the sleeves or the length of the kirtle to save fabric and reduce layers.
All of the structural seams were machine sewn with finishing done by hand. All hems are hand sewn.
The 3 dozen or so lacing eyelets are all sewn by hand (and if you're wondering how long it takes to sew 3 dozen eyelets by hand… it's about a season and a half of "A Series of Unfortunate Events."
The lacing opening and neckline are faced with red twill tape for strength and durability.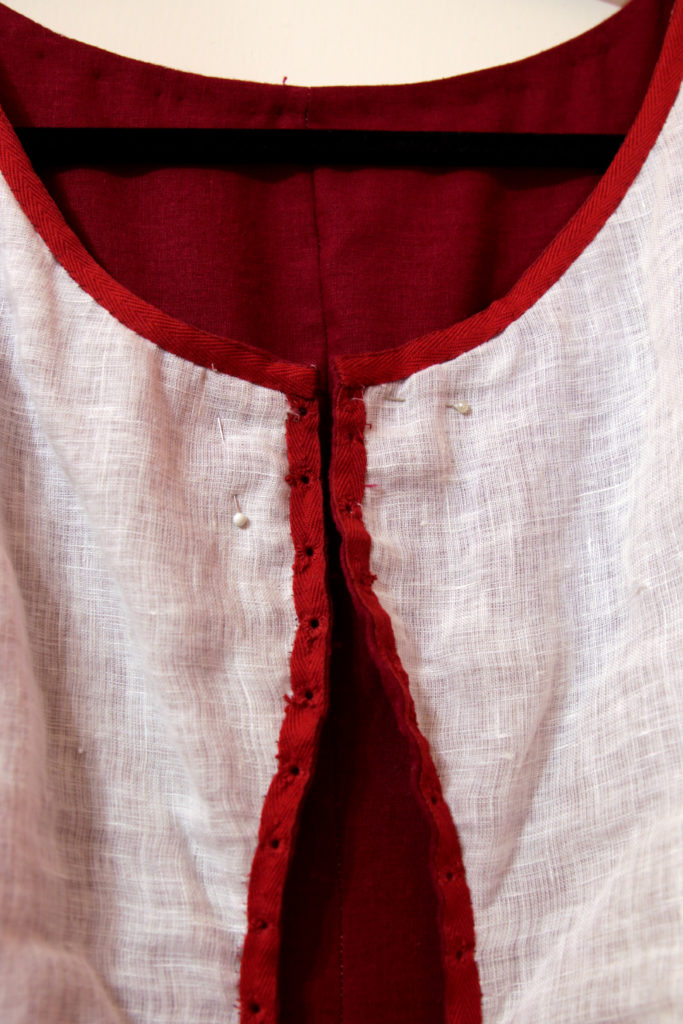 I finished the skirt gores' seam allowances by flat felling by hand. I haven't yet finished the other seams because of time.
Underneath my kirtle I'm wearing an 18th-century linen shift (minus the sleeves, I ripped them off because I didn't like the way they fit).
I'm wearing some simple brown leather flats which are the closest thing I own to appropriate medieval shoes I own.
As for the hairstyle, I followed the basic idea of this tutorial with twin braids at the top front of my head that are pinned behind and under the veil.
The veil is a big linen circle with a hand-rolled hem all around. It is folded over my head twice – once at my forehead, bobby pinned behind my ears – then folded again around the top of my head and pinned to the braids and crown with little straight sewing pins.
The "correct" way of doing this would actually be to wrap my head in a white linen cap, then layer the veil on top and pin the veil to the cap (easier to pin fabric to fabric than fabric to hair). But I didn't have enough time to make a cap and the veil stayed on well enough on its own.
This was my first costume from this period and I wasn't expecting perfect historical accuracy. It served more as an experiment to see if it could be done. I'd say it was successful for the most part.
One major anachronism – my fabric. I used a linen blend, which, while blends weren't a thing in the 1300s, linen was used for kirtles although it was a lot less common than wool. But I live in Texas where wool is hard to come by and I'd rather wear cool linen over wool.
But the other problem is color. Firstly, linen didn't take dye as well as wool back when only natural dyes were available. I doubt that this deep red could have been achieved on linen. Also, dark reds colors were more expensive as they required rarer dyes or longer dye time. I'm not dressed as a princess but I'm not a poor peasant farmer either. I'm not sure a middle-class, 14th-century lady would be wearing bold red.
Things I would change if I made another 1300s costume:
Make a cap to go underneath the veil. And make a wimple, which is like another veil that goes under the chin, pins to the back of the head, and tucks into the kirtle neckline.
Use 100% linen fabric rather than a blend, in a more muted color.
Inset the gores higher up, nearer to my waist. I inserted my skirt gores at hip level because that's where my lacing eyelets ended, but now I realize it would probably be more accurate to have the gores higher, and it would also likely make the skirt seem fuller.
Make the sleeves a little longer. As I was wearing the dress the sleeves felt short on my arms.
I made this kirtle purposefully unfussy with front lacing rather than fancy buttons so that, in the future, I could wear an overdress on top. I hope to make/buy some accessories to go with it like a belt and maybe a pouch or two.