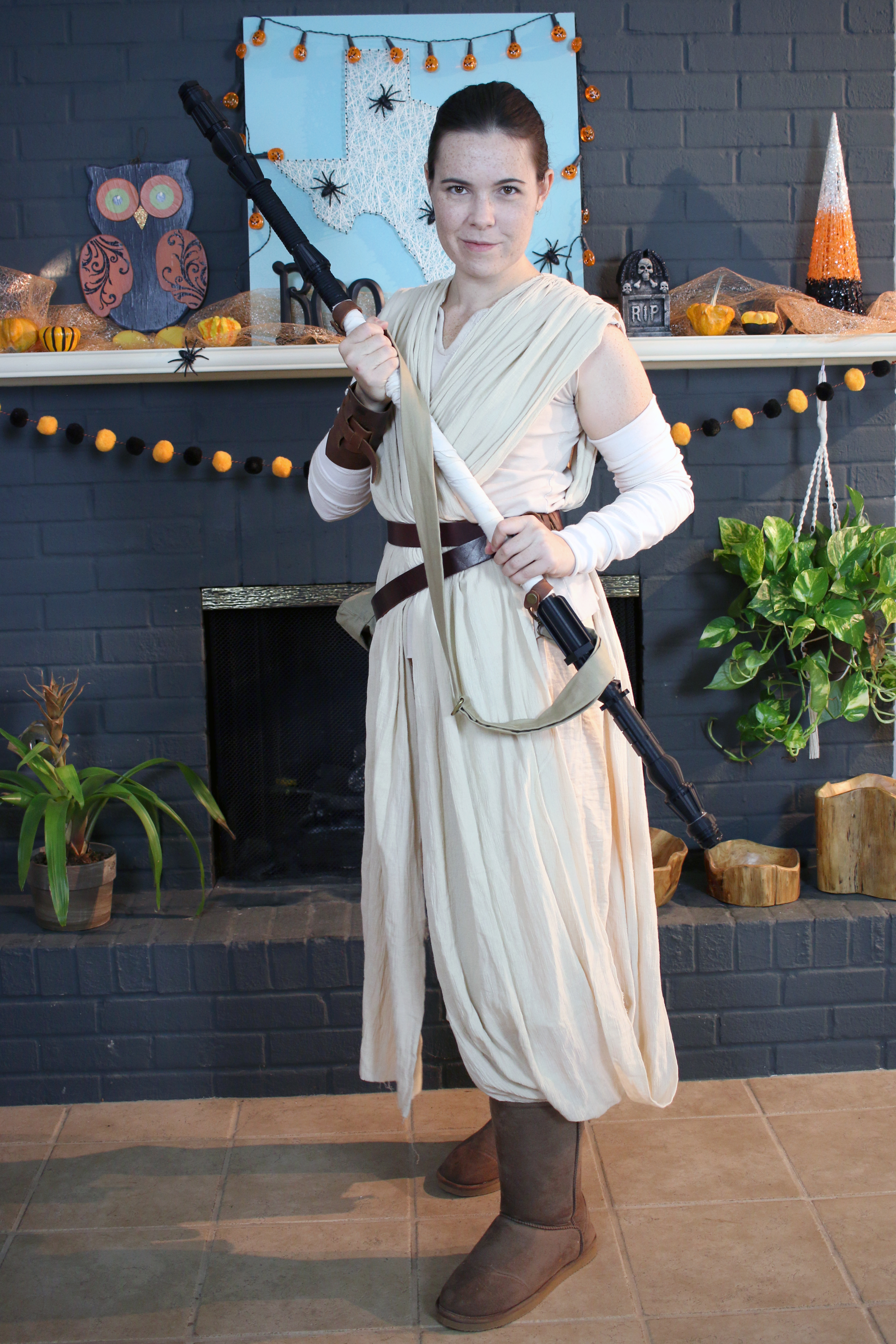 Star Wars' Rey Cosplay
Happy Halloween!! This year I stayed home to hand out candy to trick-or-treaters (and maybe eat all some of the candy myself) but I wore my new Rey costume from Star Wars: The Force Awakens.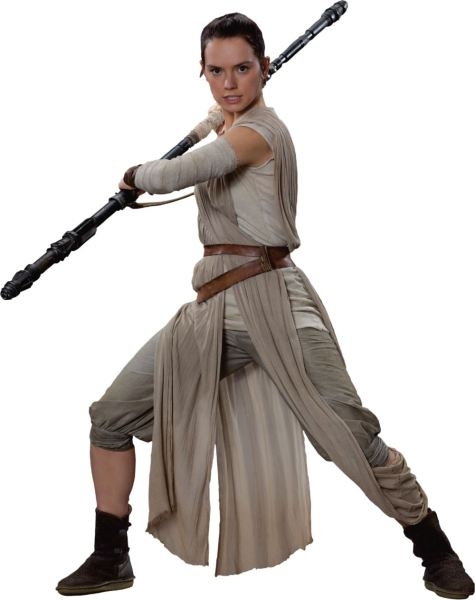 This cosplay isn't screen accurate – for one, the color was hard to get right. In some stills from the film, Rey's outfit looks more gray than beige. And obviously many of my details aren't the same as the movie's (like the boots) but it's good enough for wearing to a convention or Halloween party.
Let's break down the costume…
Shirt
I started by adapting the bodice pieces of a t-shirt pattern and extended the shoulder line to create simple "cap" sleeves. I bound the neckline with the same cotton rib knit as the shirt and tea dyed the whole thing with some English breakfast.
Pants
Rey's pants in the movie are made from raw silk. Mine are a tea dyed linen/cotton blend. I lengthened the leg pieces on a generic, elastic-waist PJ shorts pattern and added cuffs on the legs.
Body Wrap
If you've ever been to Joann Fabrics you've probably seen this textured cotton gauze. I bought like, 7 yards of it in beige, split it lengthwise down the middle, and gathered it at the shoulders. The texture of the fabric naturally makes it look gathered at the waist and the belt holds it in place.
Belt
The belt is a long, plain belt base from Tandy Leather wrapped twice and tied on one side. I used strips of leather scraps from a "scrap bag" (also from Tandy) to hide where the belt ends meet.
Wrist Band
I didn't have a leather piece long enough to make the wrist band so I had to stitch leather scraps together in sections. This isn't actually the way the wrist band is supposed to wrap around my arm but I must have cut it too small to fit with the arm wraps underneath. I basically reversed engineered the thing based on photos but this McCall's pattern does the same thing. Too bad that pattern was released after I made most of my costume.
Bag
The bag was self drafted based on images of Rey's bag. It's made from cotton duck, nylon "belting", and some rectangle rings. After wearing it to the Con I decided to add velcro to keep the top from flapping open.
Boots
Just some brown fake Ugg boots. If you want the real deal – Rey's boots in the movie are made by PoZu.
Arm Wraps
These were the most difficult thing to get right. At first, I used tea dyed muslin strips about 3in wide wrapped around my arm and tied a the wrist and bicep. But those things wouldn't stay up and they'd spread apart at the elbow. I was constantly adjusting them.
Version two is made with individual strips of tea dyed leftovers from the shirt which were sewn to a center seam. Then those strips were sewn to each other. This version stays up better but I don't like the visible stitching…
Staff
This was the big prop of the outfit. It consists of 3D printed pieces slipped onto a wooden dowel rod, wrapped in black paracord and tea dyed muslin scraps. The strap uses some cotton twill with bronze clips connected to a little bit of leather scrap with bronze snaps.
My staff is only 4 ft long while the movie version is about 6. This is on purpose; I didn't want to be accidentally whacking anyone with a stick as I walked around a convention floor.
I've gotten plenty of wear out of this costume so far. I wore it to Austin's ComicCon in September and I wore it to three Halloween events as well.
If you wanted to do this project the easy way – use McCall's 7421 for the pants, shirt, wrist band, belt and arm wraps. And just use a really long piece of cotton gauze for the body wrap with gathered shoulders (this pattern's version isn't the same as in the movie). If you want to know any more details about the costume feel free to leave a comment!