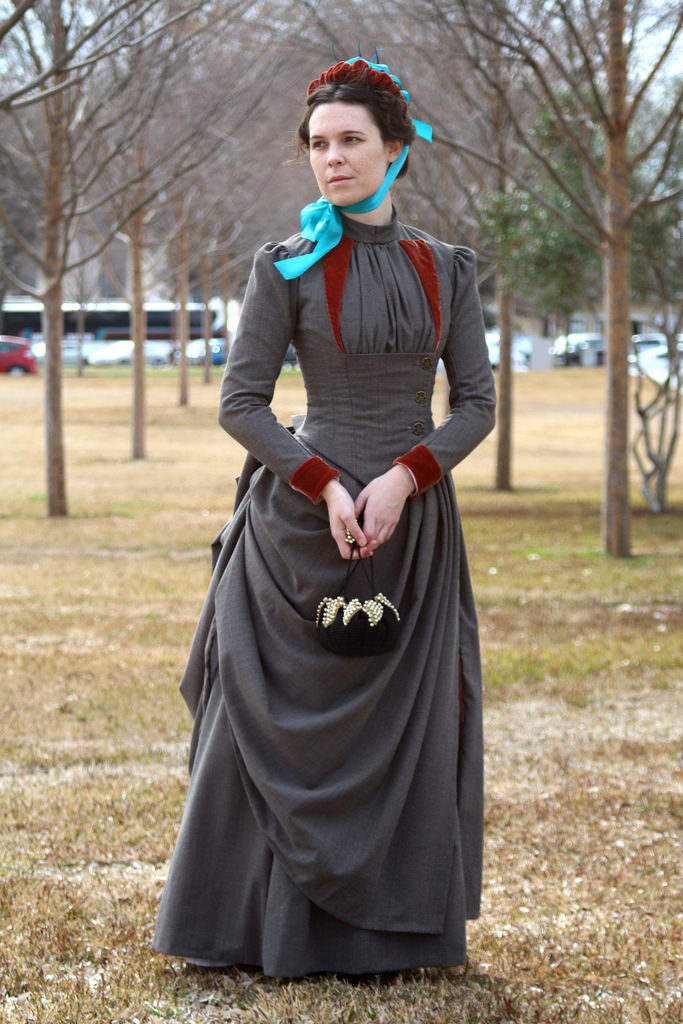 1880s Bustle Dress Costume
This might be my most elaborate costume make to date. And I finished it justintime for my event at an art museum where these photos were taken (so ignore the buses and cars in the background).
To summarize, I'm wearing a cotton chemise under this Victorian corset, a steel lobster-tail bustle with ruffled petticoat, an underskirt, overskirt, bodice, bonnet, along with silk stockings and costume lace-up boots.
Also, my mother-in-law was kind enough to let me borrow this vintage crochet handbag to house all my anachronistic necessities. Thanks MIL!
That's quite a lot to talk about so to make this post easier on my I'm going to use the Historical Sew Monthly format for this outfit.
The Challenge: After my last outing with the DFW Costumers Guild in November, my friend Susanna thought it would be a good idea to come back again for a Victorian themed event in February. "Sure," I said, "that would be fun." Next thing I knew she was ordering patterns and I had a new deadline to sew half a dozen pieces for a brand new costume in a little less than 2 months.
Material: For the underlayers: cotton muslin. For the dress: gray with orange pinstripe wool – I thought it was wool but it's actually a rayon poly blend and it's too late now to fix it, silk velvet for the trim, cotton muslin for lining. For the bonnet: buckram and wire, leftover blue silk from my Regency bonnet, silk velvet, poly satin ribbon.
Pattern: Truly Victorian everything: bustle, petticoat, underskirt, overskirt, bodice. And a Lynn McMaster's pattern for the bonnet.
However, I heavily altered my bodice to resemble this extant dress by shortening the hem, narrowing the sleeves, and creating a buttoned vest effect in front and changing the lapels. The skirts are mostly just like the patterns except I added big velvet chunks on one side of the underskirt mimicking the extant gown.
Year: about 1888.
Notions: metal buttons, feathers for the bonnet, steel boning for the dress and the bustle.
My inspiration dress had gigantic buttons on it. These bronze buttons were the closest thing I could find that would match the style although they aren't as large.
How historically accurate is it? Well, the materials aren't entirely accurate but I did so much hand sewing on this thing: buttonholes! Hooks and eyes! All that velvet!
I give it 3 out of 5 Typhoid Fevers…
Hours to complete: All of them. All the hours. Ok, really, I worked on this whole get-up for around a couple hours every day for three weeks. Nearing the end, I was feeling burnt out and my interiors look quite sloppy. I wanted to be finished with this monster.
First worn: Last week at the Caillebotte exhibit at the Kimbell Art Museum in Fort Worth, TX with the DFW Costumers Guild.
Total cost: Ugh, the not-actually-wool alone cost about $100. Velvet was $32… all together this thing was at least $250. Le sigh. I can't complain. I did decide on my own to pursue this hobby…
The only thing I don't like about this dress is that the white lining peeks out from behind the vest panel and inside the sleeves. I didn't think about that possibility as I was sewing, I should have used the self-fabric instead. Oh, and I should really redraft the collar because it didn't quite work out the way I had envisioned and on the day of the event I had to sew it closed. While wearing it. Can you imagine a needle that close to your neck!?
Even though I am incredibly proud of myself for completing this costume I am quite happy to be done with it. I'm ready for a few months of normal, modern garment sewing. I miss finishing a project in a day!