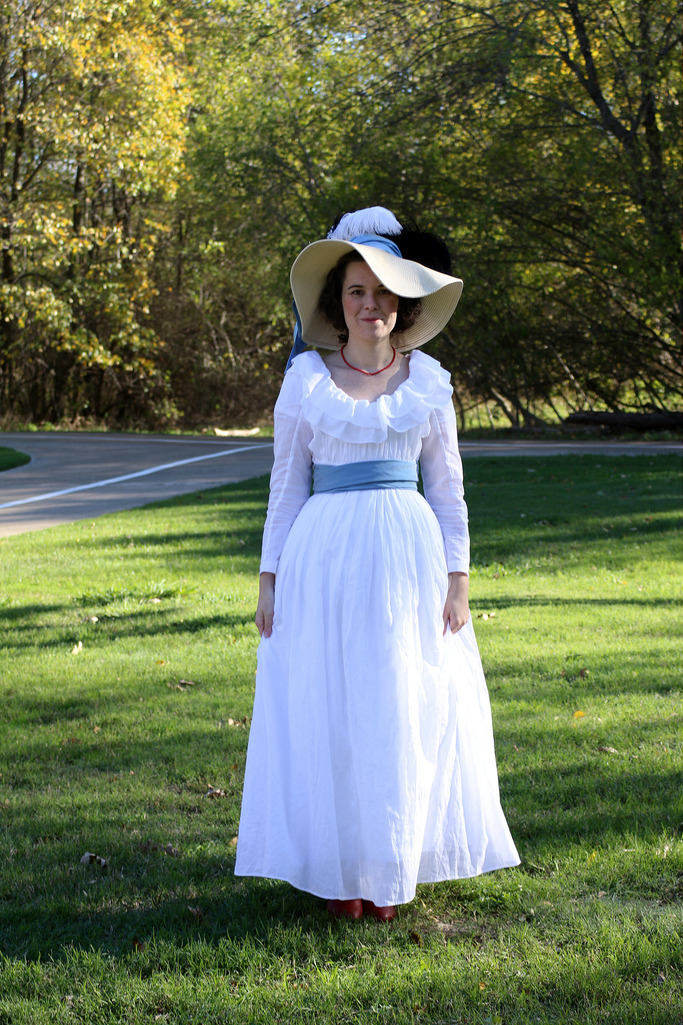 Late 1780s Robe en Chemise Costume
When I tell people I like making historical costumes they always ask me, "Where are you going to wear that?" Well, guess what? I finally wore a costume to an event! I went to Dallas for the DFW Costumer's Guild's annual Georgian Picnic. It's a gathering of costuming enthusiasts where we dress up in 18th-century through Regency era clothes, eat, play games, socialize, and generally have a fun time.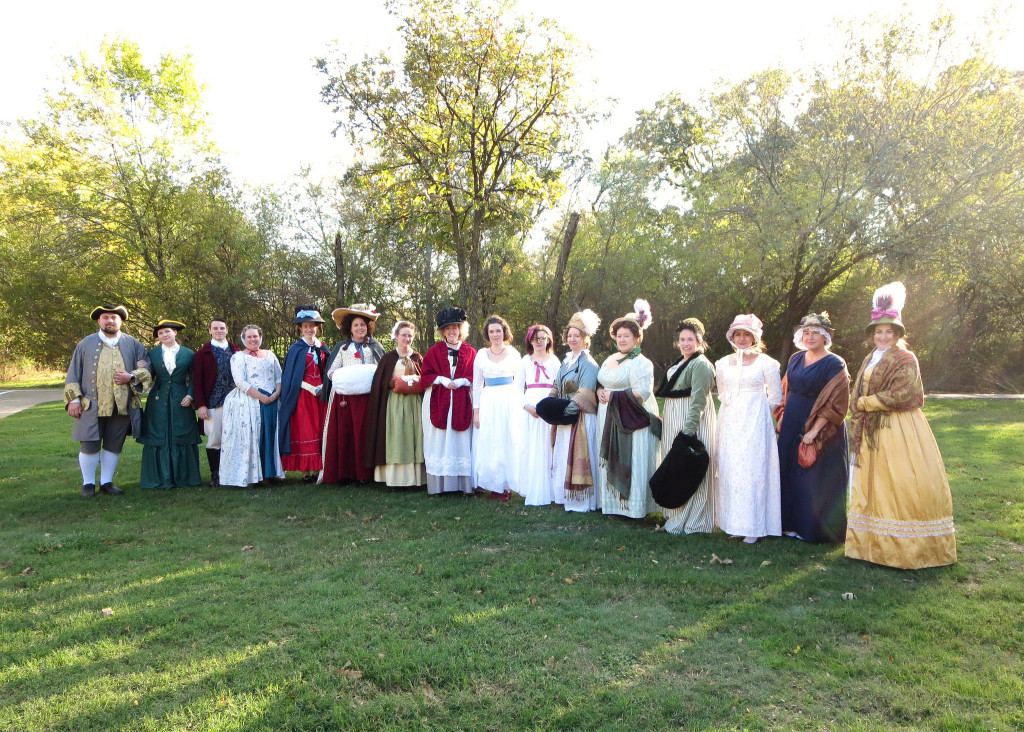 (from Festive Attyre's Flickr album)
Here's everyone at the picnic arranged in a general timeline – earlier styles on the left, later on the right. I'm right in the middle.
Normally autumn weather in Texas is mild but this year the day turned out to be quite chilly. Unfortunately the costume I chose to make and wear was more of a summer dress: the soft, breezy, classic white Robe en Chemise (or chemise dress or chemise a la reine).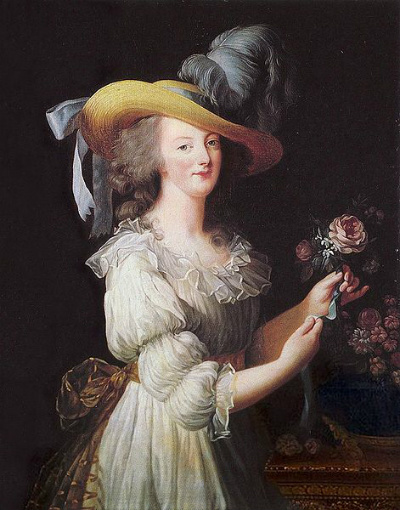 A quick history lesson: when the French public first saw this portrait of Marie Antoinette by Elisabeth Vigee-Lebrun in the early 1780s it caused quite a scandal. People thought she was in her underwear because the fluffy white dress resembled a chemise (hence the name "the queen's chemise").
But the style caught on — with variations of course. The earliest incarnations consisted of long rectangles of cotton muslin gathered on drawstrings and tied with a sash or ribbon belt. Later they often had fixed gathers into a waistband, long slim sleeves, a structured back bodice, and sometimes they were made in other fabrics like silk or stripes.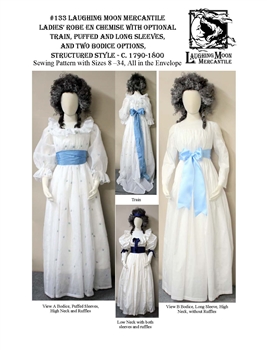 The chemise dress was transitional style between the time of the extreme rococo dresses earlier in the century and the sleek, columnar dresses post-French revolution.
But this design can be traced back before Marie Antoinette – to colonial-era Caribbean countries where enslaved and free women would wear a variation of this simple cotton dress.
If you'd like to see some examples check out my Pinterest board.
My Dress:
I used the Robe en Chemise pattern from Laughing Moon Mercantile.
The fabric is some cheap cotton I bought from Fabric Wholesale Direct. It's certainly not the best quality but it is light, loosely woven, and semi-sheer.
I made the version with the full gathers in front and back, low neckline, long sleeves, and no train. I added double ruffles at the neckline for maximum floofiness.
It is mostly machine sewn with the exception of hand blind hems on the sleeves and skirt, and rolled hems on the ruffles.
I bought some taffeta from Pure Silks that I ripped it into 6in wide strips and sewed a sash that's about 5 yards long.
Under layers:
Underneath the dress I'm wearing two 18th century style white muslin petticoats (like the middle one I'm wearing here).
Below that are my 18th-century strapless stays and my regency era chemise.
Accessories:
I made a short, coral bead necklace — a popular accessory in the late 18th/early 19th century.
I also have on ivory silk stockings and these American Duchess shoes with buckles.
I had decorated a cheap straw hat to go with the outfit, but I don't love it. It's too heavy and limp to keep its shape and because of the windy weather, the feathers kept falling out even though I had stitched down both them and the matching blue sash. I ditched it for most of the picnic.
Hair and make-up:
I bought a wonderful cosmetic "starter set" from Litttle Bits on Etsy. They recreate actual cosmetic recipes from the era.
For hair, I attempted to do a "hedgehog" style which is basically an 18th-century white girl afro. I slept in foam rollers to curl my hair, then teased the hell out of it. I used the Litttle Bits pomatum and powder to add texture and lighten the color, pinned my hair up in back a bit, and doused my whole head in enough hairspray to light a house on fire.
It's not as big as I would like. For once my hair is actually a little too long to do a historical hairstyle properly.
Well, this post is long enough so I'll wrap it up. Thanks to all the DFWCG people who were so nice and welcoming to me. I had a great time and I'm already looking forward to future events.