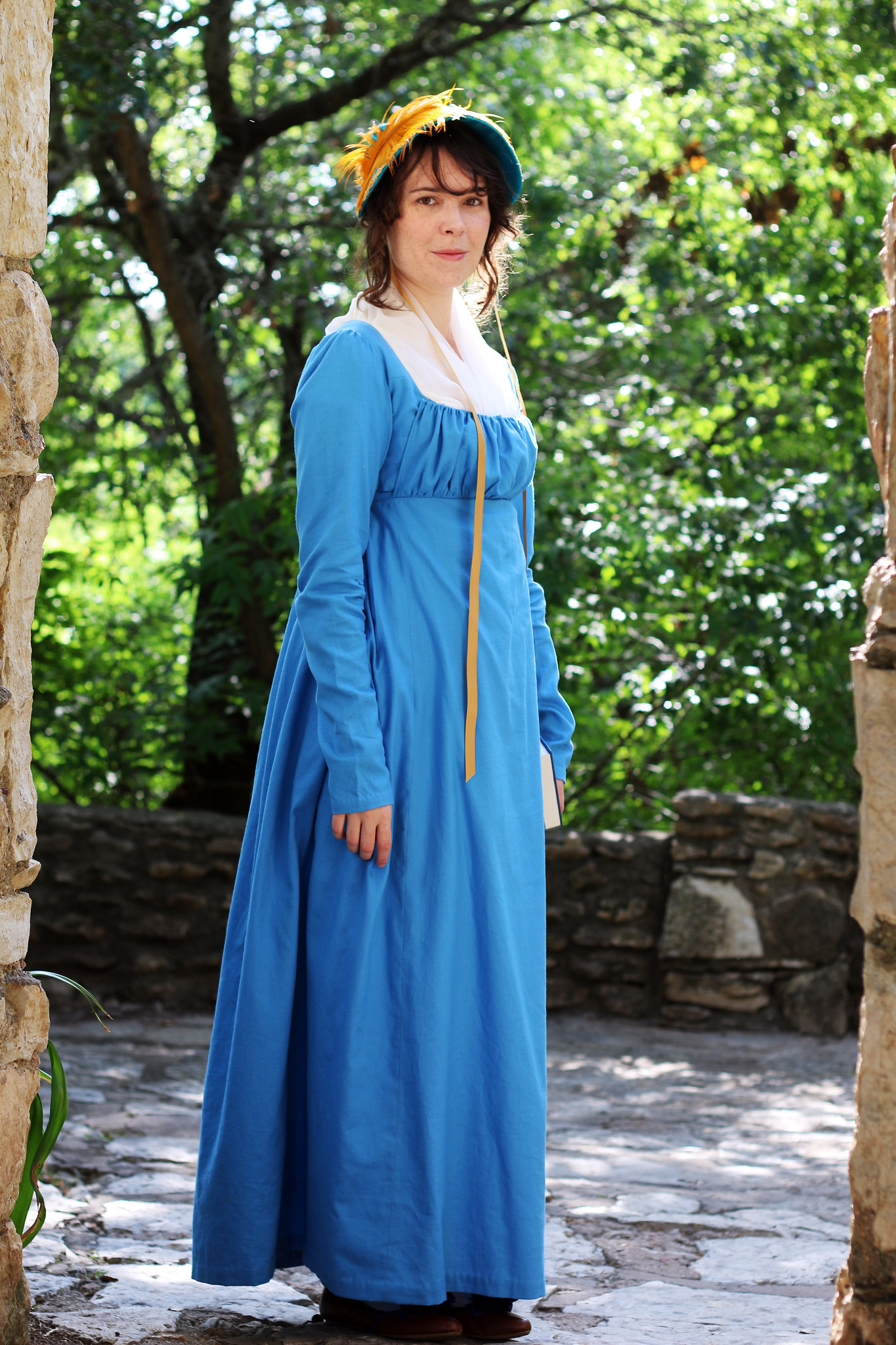 Full Regency Era Costume
At last I have taken proper pictures of this costume!
I'm wearing my Regency underthings along with a bodiced petticoat (which is exactly what it sounds like – a petticoat with a sleeveless bodice attached to it).
The Dress first: Some soft blue cotton (that I like to pretend is wool, because it feels like wool) that I bought locally at a store that no longer exists 🙁
If you've read my previous post on sewing Regency you'll know that I've had such a hard time with Big 4 company costume designs. For this go around I went with Laughing Moon #126. I knew I wanted to be able to dress myself so I chose the "apron front" or "bib front" gown design.
The way it works is pretty neat – the dress has two long slits down the front sides and this is attached to the gathered rectangle portion of the bodice. You put the dress on, then pull up the front of the dress, tie it around in the back (like you would an apron) and pin (yes pin, with little straight pins) the gathered bodice to the shoulder area of the dress (kind of like you would with a pin on apron.
No, you don't get stabbed by the pins. You've got lots of extra layers underneath the dress. And you can barely see the pins once they're attached.
This style was only popular from around the late 1790s to 1810 but I like it much better than the back buttoning dresses (those are difficult for me to put on alone).
Some cool features of this pattern which I liked and felt were more authentic than the Big 4 patterns I used – extra long sleeves that cover half your hands, a back bodice seam that raises up higher than the front, sleeve caps that extend far in on the back shoulders, a ton of back pleats, and a nicely curved and wide front neckline. All of these details are accurate to the time period.
I made a straight size 12 and it fit perfectly right out of the envelope (I seriously love this company, they're now my go-to for all historical patterns).
Prior patterns I've used ended up looking too frumpy or too juvenile but this pattern looks elegant even though it's only a day dress and nothing fancy.
The only thing I changed was making the neckline lower by about 2 inches.
Unfortunately my bodiced petticoat's neckline isn't as wide as the dress' but that's ok because the open neck area was usually covered by a chemisette/tucker (like a 19th century dickie) or a fichu (a square of fabric wrapped around and tucked into the dress, kind of a fashion leftover from the late 18th century) which is was this is. It's just an unhemmed piece of chiffon.
The bonnet I'm quite proud of. It's the Lucia pattern and kit from Timely Tresses. I chose this "jockey" style because I'd never made a hat before and wanted to start simple. The big gold feather came from them, too.
The ribbon is just some satin poly. I bought it and the fancy velvet trim at Joann.
The fabric is some silk crepe de chine which I'm not entirely sure is accurate to the time but I liked the color and it made for a nice, lightweight bonnet. The lining is handkerchief weight linen.
For my first try at a bonnet it went pretty well. The only thing I didn't like was that it seemed that the last section of "poof" in the back of the bonnet was way poofier than other areas. Maybe I messed something up, I don't know. So in the end I tacked some portions down in back to reel in the poof.
I also got a tiny 1/2″ barrel curling iron to curl my bangs and hair around my face. However the humidity made my curls all go flat after only about 5 minutes. Oh, well.
The curly style was quite popular at the time. Here's a good Pinterest board with tons of portrait examples.
And finally, I bought some ivory flocked silk stockings from this site and some ballet flats that I decorated with ribbon (inspired by this extant pair) to complete the look.
I have these and a bunch of extra photos in my flickr costumes album if you want to see more or see anything up close.