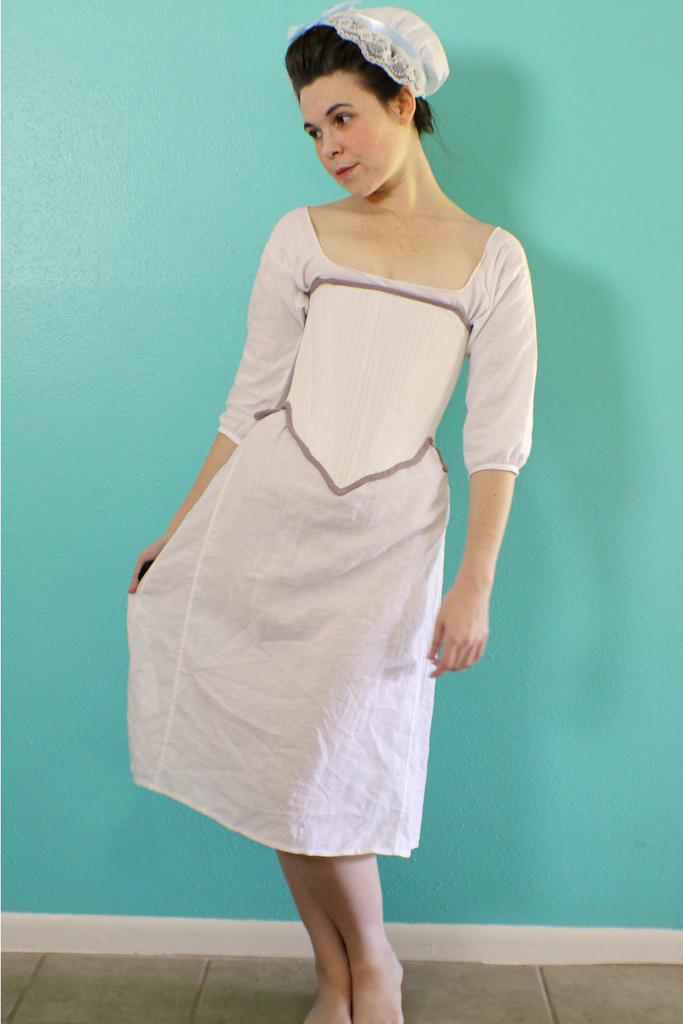 Venturing into the 18th Century
I know I haven't been posting often lately but I feel I have a good excuse. Costumes. All the costumes.
I've been dabbling in costuming work for the past year or so. If you haven't been following along you can check out my previous Regency undies and dress and my recent cosplay.
I'm working on garments from several eras right now but today I'm showing off my new 18th century undies. I'm going for a target date of around the 1770s.
So far I've made a shift (The undermost garment you would wear to keep your sweat from soaking into your stays and nice dresses which can't be easily washed, always white, most often made of linen), stays (The older name for a corset. This isn't the curvy style corset from Victorian times. This shape is straight in front and curved in back, entirely boned so it's pretty stiff), and a cap (Married women would have always covered their hair with either a cap or a hat or both. Although at night and on fancy occasions they could get away with smaller head coverings. Usually made of linen, sometimes with lace or ribbon or decoration.).
The Shift: Self drafted mostly using the info from this great site. I used a handkerchief weight linen from a store that is no longer in business so when I realized I didn't have enough to make the shift the "correct" way I had to do some improvising on the sides seams. This shift also probably isn't as wide as it ought to be.
The sleeves are gathered into little cuffs. For the neckline I put the shift on with just a slit for my head then put on the stays and used that as a guide to cut the neck hole. Then I machine stay stitched the new cut neckline so it wouldn't stretch out and made a tiny pick-stitched hem by hand.
The Stays: I used the JP Ryan strapless stays pattern rather than their pattern with straps because they're more comfortable. My Regency era stays have straps and I find them annoying and restrictive.
The pattern description says this design makes more of a cylindrical shape than the popular cone shape and I think that's true. I was annoyed when I realized the stays made by waist bigger and my bust smaller. Not what I needed but whatever. They still look good.
I like that I can put the stays on and tighten the laces myself but it takes a few minutes.
They are fully boned with straight steels in the back to support the eyelets, spiral steel in specific places, and the rest is boned with reed. Reed is a flexible wood cut in strips. It's an historically accurate alternative to the most popular support at the time: baleen (whale bone). Sure, I want to be accurate but I ain't about to go killing a whale for it!
Since this was my first pair I used leftover strong cotton for the body and some linen for the binding. The bone channels were all stitched by machine but I had to do the binding by hand – it's so curvy!
All the eyelets in back were done by hand as well and I think I've finally found a good method of making them so they don't look uneven and wonky.
The Cap: No pattern. I just winged it by measuring my head for the band, tracing a big plate for the crown and adding lace and ribbon.
I pieced together the cap from scraps from my shift fabric.
It's supposed to be a dormeuse cap, or a "French night cap," popular in the 1770s. I liked this style because it's more frilly than other plain caps.
But why wear a cap at all? Well, see, I don't have long hair. And I have bangs. This doesn't make for a great 18th century hair style so a cap (or a hat, which I might make later) hides my lack of hair.
For these photos I tried to fake the high up-dos of the era by piling my hair onto the top of my head over one of those hair rat donut things with a ton of pins and hairspray. It's so tall that I don't have any hair left to fill out the cap so the cap just floats on my head. I'll need to work on my hairstyles next time…
But I did try to do the "look" by powdering my hair (which you really can't see in these pics, I think it all got absorbed into the hairspray, oh well) and face. I also darkened my eyebrows and put on some pink blush and lip color. Fancy 18th century ladies liked their make up.
Next I'm working on petticoats and an outer skirt, maybe even a bum pad. I'm currently sewing up a jacket as well. Going for a dressy day look, I think.