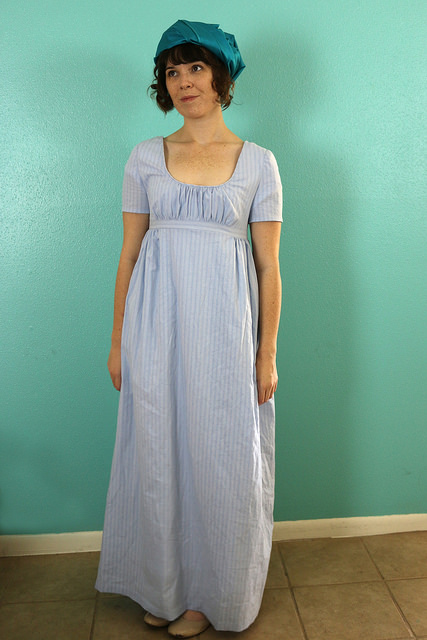 Historical Sewing: Regency Dress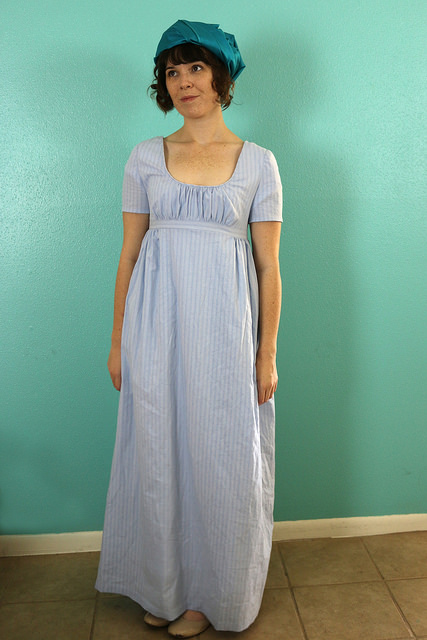 A few weeks ago I showed you some of the undergarments that support this Regency Era outfit. Here's the finished dress (actually I'm wearing a petticoat under this, too, but didn't bother to take pics). This is in fact not my first completed Regency dress but I wasn't too excited about that one so decided to make another dress.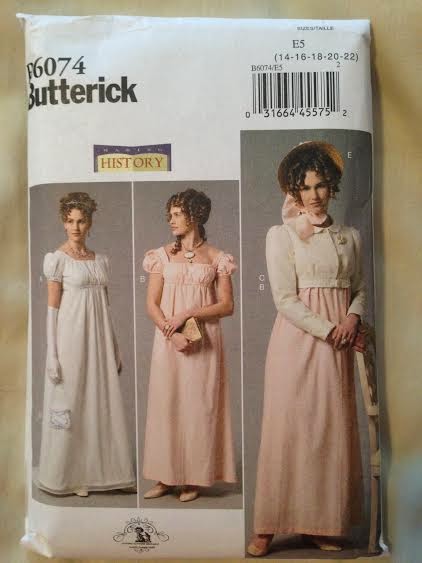 I started with a blue stripe cotton from Hancock Fabrics and Butterick 6074, blending bits from both versions A and B, but this dress you see now hardly resembles the original pattern at all so I don't think it fair to call this a pattern review.
I made so many changes and adjusted bits here and there throughout the sewing process.
My biggest problem was the method of closure. Often regency dresses had drawstrings in back to gather up the neckline and waistline. This pattern used drawstrings but it just wasn't working. The neckline pulled at weird angles, the drawstring binding crumpled up into a big pokey mess and it was difficult to put the dress on by myself. When I did manage to tie the strings together it would gape at the back waist no matter what.
So I ditched the drawstrings in favor of three hook and eyes but this caused a new problem. The string created the front gathers at the neck but without it I'd have to make a permanent way to keep the gathers together. I didn't want to add a lining to the bodice so instead I made self fabric piping and attached it to the gathered front. Problem solved.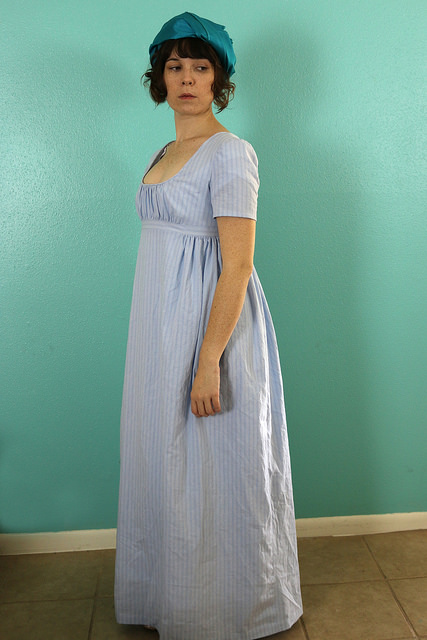 Originally the dress was much higher in front but as you know from my last post that just won't do so I cut the neckline down lower and lower and lower again.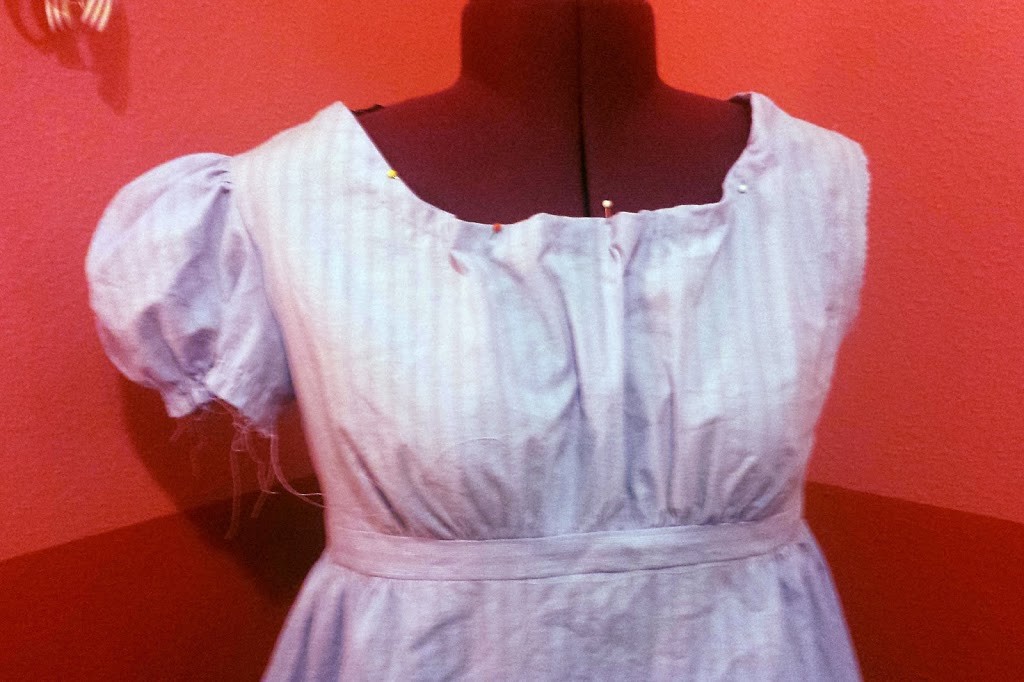 (the original neckline and big sleeves)
The short sleeves were also especially poufy, something I wasn't comfortable with so I did a kind of hack job to them and now they have no pouf whatsoever.
And the entire dress was WAY too big around. I cut about 4in off the back of the dress and it's still probably a little too big.
It was incredibly frustrating to face one problem after another and still not be any closer to a finished, working dress. And every cut, trim, alteration decision was plagued by doubt from Dixie Victorian, my historical sewing alter ego who demanded accuracy perfection and who seemed determined to make me fail.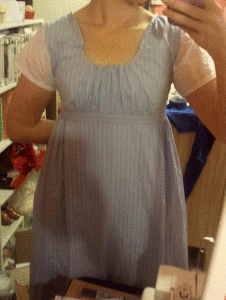 (Mid construction fit – with bonus commentary from Dixie Victorian:
Shouldn't the waistline be higher in the back? Are buttons better than of hook and eyes?
Those sleeves are too short. How wide to cut the neckline?)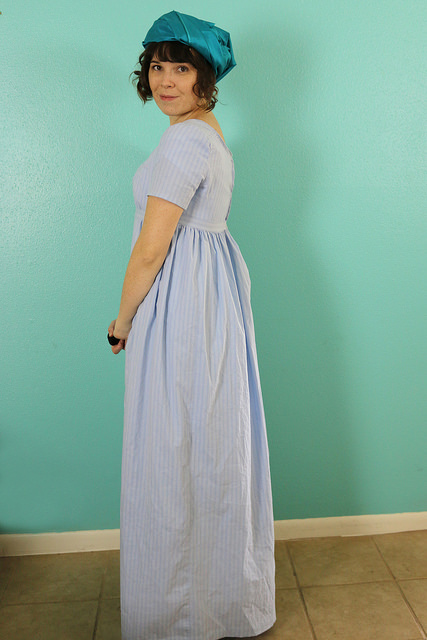 Over time the revisions took their toll and in my darkest hour I started thinking "why bother? It's never going to end. After I finish this dress I still need to make a hat, jackets, tuckers. I'll need shoes and stockings and garters and a shawl. Besides, I'm never going to be able to wear this outfit out anyway. There's no costuming group in Austin. There's no appropriate photoshoot backdrops. There's not a single building built before 1850 that's still standing in this whole city. Texas wasn't even settled by English speaking people until the 1830s, well before the regency era!"
Dixie Victorian had won.
Then later, while wallowing in sorrow over my sewing machine, I remembered The Oregon Regency Society, a very active group of enthusiastic men and women celebrating all things regency in a state of the union in which the population of white people residing there during the regency era was exactly none. Sure, Lewis and Clark trekked the area in 1804 but for some reason I don't think Sacagawea was traversing the continental divide in a velvet pelisse and a feather trimmed silk bonnet.
That revelation at least suppressed the idea that my historical costume accuracy had to extend to geographical location. If those Oregon folks could enjoy teas and croquet and playing the pianoforte in the great Northwest then I could wear my dresses here in Texas just as well.
…That's when Dixie Victorian reminded me that English and Russian ships did roam up and down the Pacific coast trading for furs with natives during the early 19th century.
To which I replied very politely that she should go die of typhus.
But I pressed on! I finished the dress and although there are mistakes and questionable decisions made while sewing I was relieved to be done with it. Dixie Victorian be damned because at this point the amount of f***s I give is proportionate to the population of regency era white people living in Oregon.
And if Dixie Victorian or anyone else wants to complain about it, well, I would kindly directly you to speak with Mr. Pemberly here: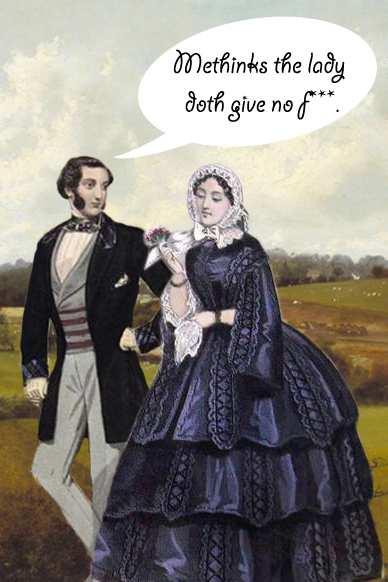 (You know what's sad? I felt the need to search out a men's fashion plate from the same time period as my "Dixie Victorian" lady because even historical accuracy in stupid jokes is a necessity.)
But just for kicks let's list all the accuracy discrepancies once and for all so I can be done with it:
Since the original sleeves were so gigantic I cut them down from the same pattern piece (I didn't have big enough scraps to cut new sleeves) but the sleeve cap is very tall and the sleeves are pretty tight. Sleeves of this era would have had a very low cap and set into the dress at almost a 90 degree angle. Mine on the other hand keep me from lifting my arms.
The sleeves also aren't gathered which means the dress would probably be from earlier in the period (like pre-1805) but in that case it means that the back bodice is too wide. Earlier dresses had narrow backs with the sleeve caps extending back over the shoulder blades.
My sleeves also conflict with my skirt – pre-1805ish you'd have gathers all around the skirt, only later did they start moving the fullness to the back to have a flat front skirt.
I've only seen piped necklines on a couple extant dresses and only ball gowns, not day dresses. It probably wasn't very popular and I'm probably doing it wrong.
I've read conflicting reports on when hook and eyes were used. I know button back dresses were middle to late Regency but I didn't want to mess with hand bound buttonholes anyway.
Oh, and with such a low cut front my neckline should also be wider, my shoulder strap area is probably too thick but if I made it any thinner you'd see all my undergarments.
Basically my dress is a hodge podge of eras which no one will notice except Dixie Victorian. And I'm fine with that. Mostly… My next dress will be much better and it's all about learning, right?
This dress marks my second attempt at using a costume pattern from a Big 4 company and both had similar problems (like having waaaaaayyy too much ease). I've learned my lesson and will now only use patterns from indie companies devoted to historical garments.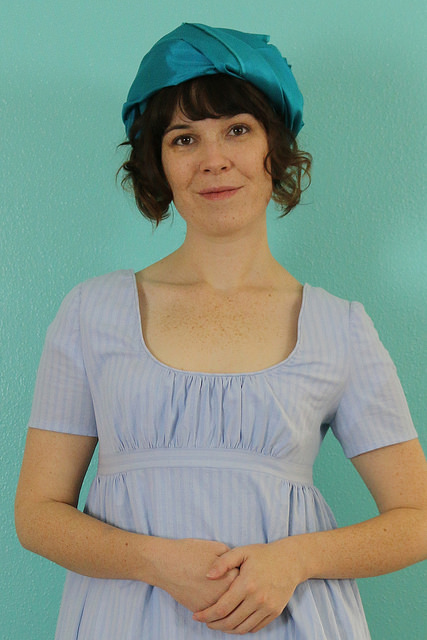 On the positive side I've improved my sewing skills quite a bit. My hand sewing is neater, more even, and I can sew more quickly by hand as well. That's carried over into my modern sewing, too. I hand blind hem almost everything and I'm more diligent about pressing and finishing seams. I even spend more time on little details like interfacing zippers.
It seams my little experiment is proving beneficial – which is good because I have a bunch of plans for more historical sewing. I just got a kit to make a cute little regency bonnet! Who knew I'd ever be so excited about making a bonnet!??