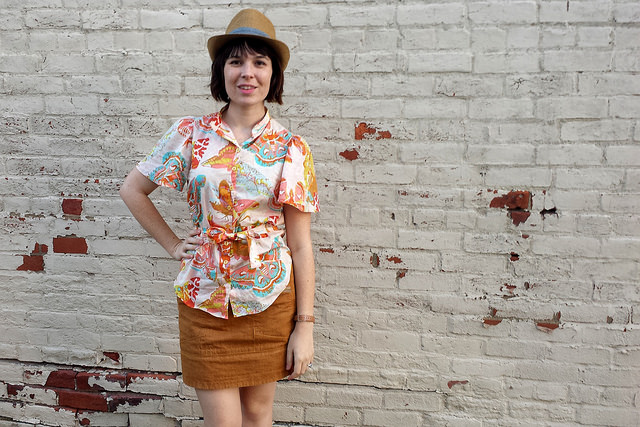 Built By Wendy Shirt, Simplicity 4112
Hey there people! I've been sewing boat loads lately – but, alas, not much blogging. Much of it is experiments in historical sewing. Perhaps one of these days when I make a complete outfit it'll appear on the blog.
I've also been traveling! These surprisingly decent cell phone pics were taken in Ohio while visiting family.
The Goal: When not sewing costumes or doing pattern testing I've been trying to stash bust. I have to admit I've grown a substantial stash over the past year. Oddly, I seem to have about a dozen kinds of solid white fabric for some reason – cotton, linen, rayon, silk, twill, batiste, satin – you name it, but I don't even remember why or when I bought some of it. Where did it all come from!? Well, I wanted to use some of my (non-white) stash so that's where this shirt comes in.
The Pattern: An old Built by Wendy pattern from Simplicity, #4112. Remember those? Back in 2007/2008 designer Wendy Mulin released a handful of patterns (and later a few books) and I was immediately drawn to her cool, hip style. Really, these patterns are what inspired me to sew more garments. I didn't know about indie designers at the time and Wendy's offerings were much more fun and "me" than the plain boring patterns that the rest of the Big 4 were producing.
I made this pattern once before, almost four years ago and I still wear it often! (Wow, looking at that old post really brings back some memories…) It's been one of my most worn shirts and it's held up well but the fabric is getting a little thin in places. I needed a new one – or at least another one. 😉
The Fabric: This is a butterfly print voile from The Cloth Pocket (right down the street from me!). Not sure of the brand. I love the springtime colors and voile is the perfect fabric for hot summers.
The Changes: I made the sleeves slightly narrower. They're pretty big. Not Colette Taffy big but still very full. One thing I've noticed over the years with my old version of this shirt – the need for more buttons. The six or so buttons on the original are just not enough and if I unbutton the top button the shirt opens pretty wide. So, way more buttons on the new shirt1
Oh, and somehow I used the wrong pattern piece to cut out the belt so it's, um, shorter than it ought to be but that's fine, it makes a cute little bow.
The Results: Already in heavy rotation (and I love the colors with my gold mini skirt, makes a perfect pair). The flutter sleeves and light fabric make it perfect for hot summers. I can wear it with a belt like this or tucked in (there are no darts and no real shaping to the design, it's actually pretty boxy) and I love the curved hem. I tried using my new narrow hem foot but I still haven't quite gotten the hang of it. If you use one of those feet do you have any tips?
So, are there other Wendy lovers out there?