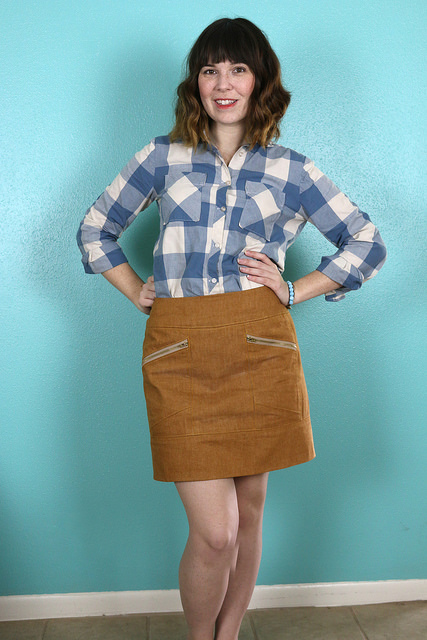 Gold Denim mini skirt
This is s skirt I've been working on and surprisingly enough has been probably my most successful draft of any pattern I've made. I had a basic straight skirt block and turned it into this, no fitting adjustments needed. Winning!
I drew a sketch of this design, like, five or six years ago, crazy! Early pattern drafting days. I had completely forgot about it until I was cleaning up and I found my little sketch. Later I discovered an old UFO bag with green corduroy pieces cut out and some zippers. Apparently at some point I tried making the skirt but I hardly remember it at all and obviously never finished it.
Flash forward a few years and I'm now slowly working on making a PDF pattern for this design. Unlike my past patterns I'm doing 9 sizes meaning I have to draft two blocks to grade up and down from. It's taking me longer but in the end it'll be nice because the pattern can be used by a wider range of sizes.
Basically it's a mini skirt with a thick waistband and a bottom hem band (both with facings). It's got a total of 7 "panels," two of which have these slanted exposed zip pockets. It hits about 2″ lower than my natural waist.
This fabric is a denim I got from a new Austin store called The Cloth Pocket. The owner said she got it from a local custom jeans designer so that's kinda cool.
The pocket interior and facings are left over Liberty of London. Yay for using scraps! (especially expensive scraps…)
The back zip is a regular zip and the front pocket zips are some metal jeans zippers. I top stitched all the seams in gold thread.
It's definitely an above the knee mini skirt but I think it can be lengthened easily in either the panels or the hem band.
I've been wearing it pretty often which is always a good sign. I made it in a solid so it goes with all kinds of tops but yet the seaming and zips give it some interest so it's not a plain ol' denim skirt.
Well, whatdya think? And would anyone be willing to be a pattern tester for me? More details on that in a future post.