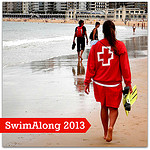 SwimAlong!
Man, I feel like I'm working on a gazillion different projects but because of that none of them ever seem to get finished… At some point I'm going to finish them all and flood this blog with sewing goodies.
In the mean time I wanted to let you in on some stuff I'm doing, perhaps stuff you'd want to get involved in, too.
So, have you heard of SwimAlong 2013? It's music to my ears! You know me and swim suits – I love 'em! Well, I love sewing them anyway. Even though I rarely go swimming. The most swimming I do is usually in a river or a creek somewhere here in Austin. Austinites are really into floating down rivers in tubes or hiking out to some waterfall and splashing around on the rocks. Did you know I grew up right next to the beach and I had a pool at my condo building, too? Yeah, I had all this access to swimming and I hardly ever used it. If only I sewed my own swim suits in high school.
Anyway, Kadiddlehopper and Three Dresses Project are hosting SwimAlong, a swimwear sew-along. You can pick whatever pattern or design you like. The gals are offering helpful construction posts and lots of inspiration.
For my suit I'm going to be adapting Ohh Lulu's lovely lingerie patterns for swim wear spandex (and I promise to show you how so you can do it, too). How cute would the Gracie and Bambi patterns be for a bikini?
I bought a half yard of this wild and crazy swimwear knit from Stitched Fabric Boutique here in Austin. I'm not sure exactly how I'm going to use it. I'm thinking of mixing it with some solid black so the tacky, 70's explosion doesn't overwhelm me.
This fabric is really abstract and artsy but what you can't completely visualize from this pic is the shiny gold splotches and squiggles all over it.
If you're a little insane like me and actually like this print I found it on Spandex House's website. For some reason their site doesn't have individual pages for each fabric so if this search link doesn't work then just search for the fabric with this product number: PS-3772. There are two other colorways for it, as well: PS-3771 and PS-3770.
Anyone else planning on participating?
*******************
In other news – my patterns are now up on Etsy! Etsy finally decided to get on the downloadable-product bandwagon so now you can buy from Etsy and instantly download your patterns!