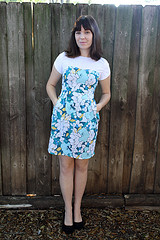 Dixie DIY's Year in Review 2012
I love the new year! New start, new goals, new memories but first I want to review everything that I did sewing-wise in the last twelve months.
2012 Was a pretty big year for me, I dyed my hair purple, sewed a bunch of swimsuits for my summer vacation, I released 3 new patterns (one of which was free), and made about 50 garments and accessories. Not too bad! Let's break it down now –
Garments Sewn for Myself: 34
Dresses: 10
Shirts: 19
Skirts: 1
Pants/Shorts: 6
Underwear and Swimsuits: 2 bras, 1 undies, 7 swimsuits
Accessories: 1 wallet, 1 handbag, 1 make up case
Sewn For Others: 3 dresses for cousins, 1 baby shirt, 1 shirt for my man, 1 monster quilt
Other crafts: 1 failed kite, 1 travel neck pillow, 1 holiday wreath, 1 state shape string art
Now, let's discuss the value of all those me-made items, not monetarily but in terms of wear-ability and how well they met my sewing goals from last year.
To recap, some of my goals were: to make "church appropriate" dresses (ie: cute party dresses that don't look trashy), solid color tops, tops and dresses with sleeves, good everyday dresses, pants/shorts, blazers and solid color coats. On the flip side I was refraining from sewing skirts (already have to many that I don't often wear) and anything without sleeves or clothes that need to be worn with other clothes to feel comfortable.
(these two dresses are both "church appropriate" and good for everyday wear, double check!!)
So I didn't sew a single coat or blazer(well, maybe a sweatshirt/blazer hybrid thing). But I did ok in most other areas.
Shorts: 3
Pants: 3
Church Appropriate Dresses: 2, but only one really fits
Solid Color Tops: 8
Everyday Dresses: 7
Stuff with long sleeves/three-quarter sleeves: 7
I broke a few of my rules (they're more like guidelines anyway), I made one sleeveless dress, several printed tops and one skirt (but that was a UFO so I'm letting it slide).
(pants that don't fit anymore)
But here's a big problem – A lot of the clothes I made don't fit. Some didn't really fit from the get-go like my first two pants from the year. The first pair of jeans from January stretched out way too much, those got donated. The second pair of pants from February also seemed to stretch out but were also a little big to begin with.
(these dresses don't fit anymore *sadface*)
But then I lost some weight last winter and slowly but surely a lot of my fitted garments got too big, like my first Colette Macaron dress from 2011 and my Victory Anouk dress from January. Both of these dresses are so big in the bust and shoulders now it's not really worth trying to fix. That cutout on the Anouk dress used to show a little bit of skin, now it show half my bra!
My first Darling Ranges dress from March is too big and now gapes in front and is too low, not really fixable. My Victory Lola dress is like a giant sack now.
Most of my shirts fit ok but it's such a bummer about the others. I'm seriously considering doing a giveaway on the blog for those dresses rather than donating them to Goodwill. I'd like to know they're going to good homes. What do all of you think about that?
(my most worn me-made garments)
But there's good news! Of the things that do fit I've gotten a lot of wear out of them. My most worn items would be my Pattern Runway Sweet Shorts, my self drafted tulip sleeve knit dress, my short sleeve Renfrew, my two Burda Book blouses (always in heavy rotation!), both Scout Tees, my Movies in the Park Shorts, the 2nd Darling Ranges dress and my black dress and floral dress from April and May.
(what doesn't get worn: bad fabrics, bad fit and not so good styles)
What I don't wear as much of – my early versions of my Summer Concert Tee, the rayon fabrics have just fallen to pieces, things snag on the fabric all the time and there are even little holes in the shirt. The fabric was just crap. Thanks a lot fabric.com.
Also my first cowl neck Renfrew is just too tight in the bust to really be comfortable. I like looser knits like my Hot Cocoa Sweater. It's a shame 'cause I loved that honey color!
Also, I thought I'd enjoy the wide leg look of the Juniper trousers but I just never wear them. I think they make me look like I'm drowning in pants. I'm a little upset but hey, you live, you learn.
And alas, those giant sleeves on the Colette Handbook Taffy Blouse have kept me from wearing the top. I feel that with all the billowy fullness at the shoulders I have to balance it out at the bottom but I'm just not sure how to style this top.

***I'm really into making lists and assessments to turn them into new goals so I love making posts like this and reading other bloggers' recap posts. If you've done a "year in review" post leave me the link in the comments so I can check it out. Maybe I'll even find some new blogs to read this year. 😉