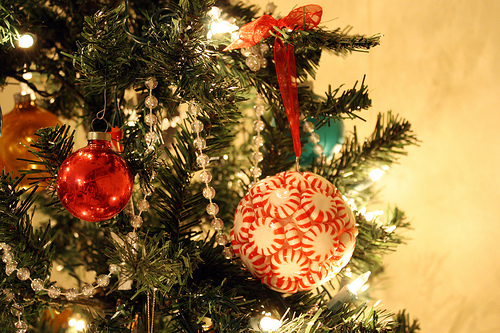 Starlight Mint Ornament – Holiday Ornament Exchange
It's beginning to look a lot like Christmas. Except, well, because of global warming or something my Texas Christmas is more resembling an Australian Christmas. It was 80 degrees yesterday! What's up with that?
A few weeks ago the lovely (and expecting!) Kelli from True Bias asked me as well as a bunch of other bloggers, many who you also know and love, to participate in an ornament exchange! So of course I was like, "yes please!"
We all made our own ornaments that we're mailing to each other. None of us know what each of us are making so it's a big surprise for everyone.
Let me just say that while coming up with my idea I nixed a few others because, as usual, whenever I come up with a good idea someone else has already thought of it and put it on Pinterest. I had to stop Pinterest-ing for a while because I was getting discouraged. No doubt my idea has already been made by others as well, and if by some chance another one of the participating ladies had the same idea for an ornament as I, well, then we're both geniuses. 😉
Moving on, I don't really like mint flavor, and I never really eat these things but for some reason my childhood memories are filled with these little Starlight mints. They remind me of spending Christmases with my grandmother and the iconic colors and shapes shout "Christmas" to me. So, naturally, I covered a ball in mints.
You will need:
Starlight mints
Styrofoam balls (These are 2 1/2″ size. I don't recommend any bigger, the mints add a lot of bulk)
A glue gun
Some kind of wire (I used floral wire)
Wire cutters
Ribbon for hanging
Scissors
Clear spray sealant
Ziplock bags
And maybe a hammer…
This project is pretty simple.
Dab some glue on the back of a mint and stick it on the ball.
They ya go. Not so hard, right?
Now keep adding mints next to mints you just glued.
Hold each mint down for a few seconds to let the glue stick.
Soon you'll have your ball covered!
If you get big spaces that can't fit a whole mint, don't worry. We'll fix that next.
As you unwrap your mints you'll no doubt have a few broken mints. That's good. You can use those bits to patch spaces between mints.
If you need smaller pieces you can put them all in a ziplock bag and hammer the mints into tiny bits.
Glue and stick the broken bits in the empty spots.
If you're making more than one ornament you can save this part for last.
Just fill in all the really big spots, all those tiny spaces won't be seen from a distance.
Next cut a length of wire, about 4″, like in the picture above.
Bend to make a loop on one end that will hold the ribbon.
Wrap the short end around the rest of the wire.
Put glue along the wire and find a nice spot on the ball and stick the wire in.
Add some extra glue at the base of the loop for support.
Then spray the whole thing with sealant. I sprayed one side at a time so I could let the sealant dry. The sealant and mints can get sticky so make sure you spray on some plastic like a big ziplock bag, not paper towels. The mints can stick to the paper.
Finally cut some ribbon, I cut about 12″, and string it through the loop.
Make a cute bow and now hang it on your tree!!! They're a little heavy but I have much heavier ornaments than these so it should be fine.
Thanks again to Kelli for organizing this! Now go see all the other cool ornament ideas:
Jen at Grainline Studio
Kelli at True Bias
Maddie at Madalynne
Megan at Megan Nielsen
Miranda at One Little Minute
Mika at Savory Stitches
Sonja of Ginger Makes
Suzanne of My Beau Baby