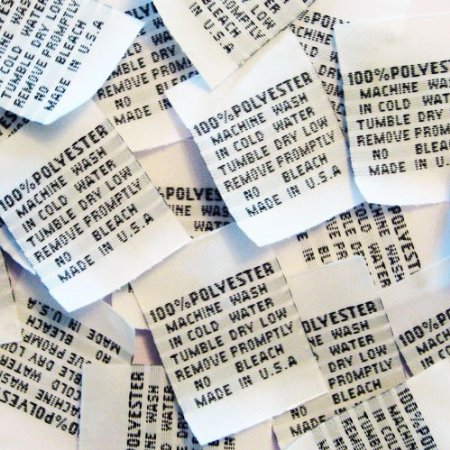 Do you have "Poly Prejudice"?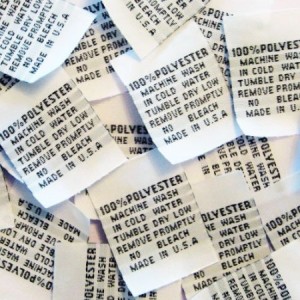 (image from here. oh, the things you can buy from amazon…)

Poly Prejudice is a term I heard from a local fabric store owner who was bemoaning how some customers wouldn't buy polyester fabric because they thought it was either not as good quality compared to natural fibers or just poorly made in general.
According to him polyester manufacturers have completely upped their game since the 70s when most people developed their disgust for man made fibers and now poly can be as good as silk or cotton (apparently Joann and the other big box fabric stores haven't found these new great poly manufacturers… ahem).
Hmm… I had never thought about that… Did I have so much poly prejudice that I never even touched the "good" stuff to see if it was even worth working with? Honestly the only poly I've ever bought was some fake silk-like polyester from Joann or one time from Fabric.com (that stuff was so slippery and nasty feeling that I just stuck it in a box and haven't looked at it in months). I've probably used some poly/cotton/rayon blends for knits but other than that I avoid the stuff.
Then there's also the environmental issue – poly is made from petroleum products, not exactly earth friendly. Then again, rayon, one of my fave fibers uses lots of water and chemicals which may or may not be negated by the fact that it is made with renewable materials. And then there's silk and wool – sorry vegans. And even if you buy organic cotton, odds are the dyes are still full ofchemical. Basically you're damned if you do, damned if you don't.
***What got me thinking about poly prejudice again is my need for sweaters. Since I make most of my own clothes my only retail therapy I really get is with shoes and accessories but there's something else I can't easily make since I don't knit – a good old fashion pull over sweater.
I was in a mid range department store the other day on the hunt for a cable knit sweater. The only one I could find that even had cotton in it was a cotton/rayon/poly blend and was two sizes too big. EVERYTHING ELSE had poly or acrylic or nylon or some space fiber that was probably developed by NASA.
I looked online at Target – no dice. All poly or poly blend. Same at Urban Outfitters. Then I looked online at Gap – one winner (ONE!). It was a 100% cotton terry sweatshirt, not a knitted sweater but at this point I'm not complaining. J.Crew had one 100% cotton sweater and some all wool options but I dislike dry cleaning.
What does a girl gotta do to to get a natural fiber sweater up in here!? I'll take a wool/cotton blend even! Sweaters are supposed to be comfy and cozy, not itchy from some metallic bits interwoven in it. Can poly be warm and cozy? Am I right to apply my poly prejudice to RTW clothing?
I think many sewists have some amount of Poly Prejudice, I know I do. But are we right to? Have polyesters really improved or do natural fibers still reign supreme in the quality department? Should I be ashamed of my prejudice?
Shopping for non-poly got me thinking about some points in Overdressed. It may not be cheaper anymore to sew versus buying clothes but if you don't even have the option to buy a clothes made from natural fibers then sewing would be the only way to get those garments.
So what's your opinion about polyester? Does it have a place in our wardrobe? Should we give poly a chance? Is poly the fabric rights issue of our generation!? Am I making a big deal over nothing?!!