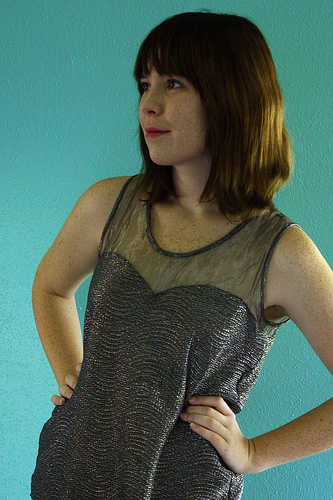 Last minute stitching, and "cataloging"
Yes, I have been sewing things other than swimsuits lately. This is a top I made to go to a friend's birthday shin-dig at a downtown bar. I needed something sparkly for party time and I had bought this fabric a long time ago with the intention of making a top like this but never got around to it. Not until about 36 hours before this get together did I decide to draft and sew this top.
Ok, let's get down to the important bits.
The Goal: One of my New Years resolutions was to sew clothes for specific needs. I hardly ever have to dress up to go downtown and as such I don't have much party wear. This top is a good remedy for that.
The Pattern: I realize it might have been faster to just adapt an existing pattern but I figured this was so easy I'd just take my basic two-dart bodice block, cut a sweetheart neckline shape and leave the bottom dart open for some flare. That mostly worked except my fabric has a mind of it's own…
The Fabric: The base fabric is some crazy poly I bought locally. This stuff is strange. It's sparkly and textured and also stretchy, but I don't think it's a knit. I don't even think it's a woven. It's more like some strange alien sheet of molecules unknown to man. I don't even know if I can wash it…
The top part is a sheer organza-thing. It's not silk but I'm also not quite sure what it is. Rather than pre-washing it in the washing machine I put it in a bowl of water, left it for a minute and came back to find the water dyed purple!?!?! WTF?? And the fabric smelled strangely like petroleum or some car cleaning product, basically like my garage. Hmm, perhaps I ought not to wear such materials… too late!
The Changes: Originally I had a side dart in this shirt but the stretchy fabric dragged down so much that the dart was pointing closer to my belly button than my – well, you know. I unstitched that dart and let the fabric be free.
The stretchy alien fabric doesn't fray so I didn't bother to hem it or finish the seams (which worked well because I didn't have time…)
Before trying the top on I thought it might be hard to fit it over my head so I added a back slit with a button closure at the back of the neck. Yeah, that was totally unnecessary but I guess it looks cool.
The Results: It's not my favorite thing I've ever made and I have no idea how I'm going to wash it but it serves a purpose so I'm satisfied.
Ok, I admit I didn't come up with this idea (I'm pretty sure Andrea did) but the concept of mimicking ridiculous pattern company catalog poses was so funny that my last sewing group meeting resembled a crazy yoga class from hell.
I'm dubbing it "cataloging" mostly because I can't think of a better name. Similar to planking or draping or, my personal favorite, cat breading, "cataloging" is the act of photographing oneself posed like a model from a pattern company catalog book. The sillier the better.
***Ugh, that's all for today. I promise to be back on on Friday with the next installment of the Swimsuit Sew-along. Today I have to work on my new pattern and tomorrow I've got to clean up my house for a Project Runway watch party – so busy!!