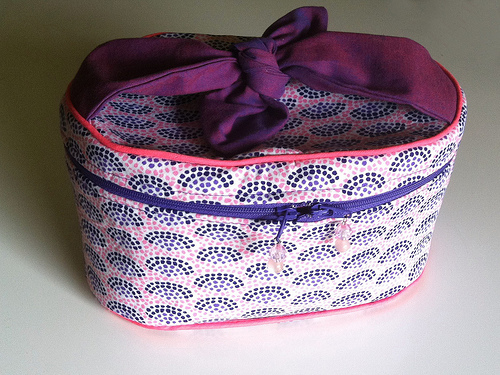 Travel Sewing: Train-Style Vanity Case from A Bag for All Reasons
Something about this last vacation made me interested in sewing useful things for travelling. Maybe it's because I finally got to use my travel pillow I made months ago (and it was amazing! I could actually sleep on a plane! AH-mazing!!).
I've even been making a list of my ultimate travel sewing projects (because why buy luggage when you can make it!). You can read my ever expanding list after the review.
This bag definitely fills a need both at home and while jet-setting. The Train-Style Vanity Case comes from Lisa Lam's new bag-making book, A Bag for All Reasons, that we used for last month's Bibliostyles meeting.
I don't often make too many bags as they're not as exciting to me as clothes but this book really piqued my interest, mainly because I thought so many designs were clever and useful. There's a tri-fold wallet, a convertible backpack, a snazzy iPad case (if I had an iPad), a compact grocery tote, this stand-up make-up bag and more.
I borrowed the book from Susan so I didn't take many pictures but I did find this website, Cut out and Keep.net, where the publishers posted three projects from the book for free! Pictures and all!
Speaking of my last plane trip, this case would have been perfect on that vacation. Normally I carry a couple smaller make-up bags but I never had anything big enough for all my toiletries – until now!
The Goal: My recent vacay got me all excited about travel sewing (too bad I couldn't have been more interested before I left so I could have used my creations) and I loved how this design stood upright on it's own for easy access to the contents.
The Pattern: I felt that the pattern pieces were pretty accurate and I liked Lisa Lam's casual style of teaching. It really felt like I was taking a class with her. In the end I didn't like the look of the raw edges at the inside lid and base. They just looked sloppy with piping covering them. I would have preferred a different construction method to clean that up (even if it was a structural decision to do it that way).
I think the fabric-tie handles are super cute! And I loved the addition of the elastic brush holders in the lid. So useful!
The Fabric: Quilting cotton for the outside and a chambray for the handles lining. I also used pink piping and pink bias tape to cover the raw edges on the inside. I also used a boat load of different interfacings including fusible fleece which makes the sides soft but stable.
The Changes: I added 3/4″ to the overall height of the bag. It's not that large to begin with but you could easily change the proportions to make it even bigger if you needed.
I also added a couple beads to the zippers to make zipper pulls. Look, ma! I'm embellishing!
The Conclusion: This is a really practical bag that I'm going to get so much use out of at home and on the road. If I were to ever make it again I might try using dec weight fabric for the outside to make the sides even more stiff. Even though the bag stands up on its own, it is very easily smushed and I find myself poking at the edges to keep it looking straight and tall.
Ok, I was saying earlier how I'm making a master list of awesome travel sewing projects. The vanity case is obviously on there. Imagine how cute that bag would look on the counter of some five star hotel bathroom (as if I stayed at five star hotels…).
Here are the others on my list:
Travel neck pillow from the "Work in comfort" Travel Set from Fabric by Fabric: One Yard Wonders (which I've made).
The Bag Tag, Cheery Passport Cover, Travel Tissue Pack and Vacation Valet Travel Tray from the Jet Set from Fabric by Fabric: One Yard Wonders.
My friend Susan made most of this set for our first Bibliostyles meeting and I thought the travel tray was such a cute idea! It folds up flat and when you take it out you snap the corners together to make a tray. What a great way to keep keys, cards, tickets, brochures and receipts in one place in your hotel room (rather than have them scattered all over the place).
I definitely need a bag tag because after a couple layovers those paper tags the airlines give you look a little worse for the wear. The passport cover could double as a boarding pass holder and I'd love to figure out a way to make the tissue pack cover work for my make-up remover wipes.
Sunglasses case and phone case/wallet from the Smart Girl's Set from Fabric by Fabric: One Yard Wonders (the book is proving to be very useful). I'm always worried about my sunglasses getting scratched out in the open in my purse and the phone case doubles as a wallet for credit cards and ID. When I travel I always try to downside the essentials and I often don't even carry a big wallet so this little pouch is a perfect alternative.
Amy Butler's Weekender Travel Bag. I've never been a heavy packer. Often when we travel Justin and I can fit all of our stuff in one carry-on size bag not much bigger than the Weekender Bag.
I'd make a version out of vinyl to make it extra heavy duty (and curse myself as I try to sew through all the layers…) but a fun fabric print might be too irresistible.

***Can you think of any other patterns I should add to my travel sewing list?