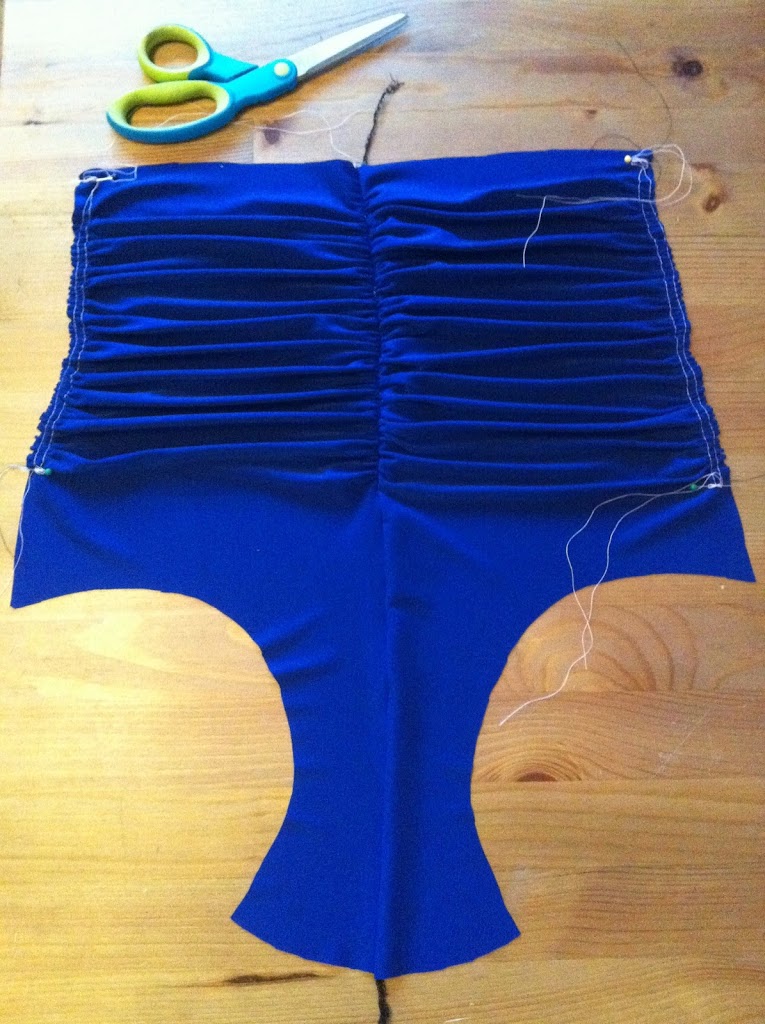 DixieDIY's Summer Swimsuit Sew-along Pt 4: Gathering
This looks like it's going to be a leisurely sew-along. I just got my serger back from being serviced and now my sewing machine is in the shop for the same reason. I couldn't be without both machines at the same time!
For now I've brought out my old blue Kenmore I bought in high school and I'm amazed it still works (mostly…). It's quite an adjustment, though – no thread clipper or drop in bobbin or needle threader on this one, but I can survive. 😉
Today we're working on the front gathers of our swimsuit.
The pattern pieces for the front (Piece #6) have notches toward the bottom for the end of the gathers. I've marked my notches with pins but you could use clips or chalk or whatever you prefer.
This part is pretty simple – stitch two lines of stitches (long stitch length), one along the seam line (3/8″) and another within the seam allowance.
Kwik Sew gives a great tip that I'm surprised I never learned before – to keep your gathering stitches in place wrap the the thread tails around pins in a figure 8 pattern
Once you've made all four sections of gathering stitches we'll work on the center gathers. You'll need a ruler to measure from top to the lower notch. Remember how I added 1/2″ in length to my pattern pieces? Well, I'll have to factor that into these gathers.
Kwik Sew says my measurement for size S should be 8″ so with 1/2″ added to that it comes to 8 1/2″. (The gathers make the fabric ripple a bit but trust me, laid flat my measurements are correct.)
Next we cut a piece of clear elastic the same length as that previous measurement (which in my case is 8 1/2″). Clear elastic is important because it is less stretchy than regular elastic. This means the gathers will stay in place but stretch just enough to adapt to your body. Places like armholes and legholes deal with a lot more movement so they need stretchier elastic while this center line needs more stability.
Kwik Sew says to stitch these two pieces together and then attach the elastic separately in the next step.
I combined these steps and pinned the two pieces right sides together and serged them. I didn't pin my elastic to the fabric. Instead I just fed it through by hand which worked just fine.
If you think the elastic plus bunches of gathers will be to unruly for your machine go ahead and do the two step system.
Originally I planned on doing this center seam with a zig zag stitch but after a couple tests on my old Kenmore I realized that wasn't going to work. The tension was off and the machine kept skipping stitches (I haven't used this machine in almost 5 years so I can't expect it to work perfectly). So zig zaging was out. Instead I used my serger which works just as well.
Alright, it's starting to resemble a real swimsuit now… sort of.
I'll seam rip out those gathering stitches and we'll be ready to move on to more sewing later. Next post we'll do the bust pieces, stitch up the back and and do neckline elastic!