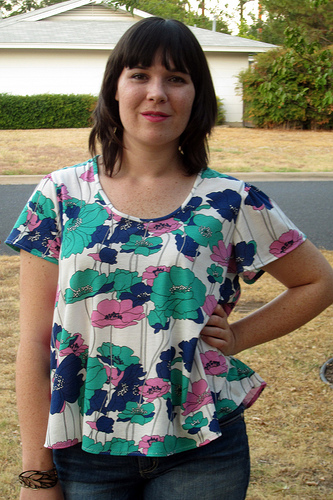 Closet Catalogue Pt 2
Yesterday I posted the results of my Closet Catalogue where I counted and categorized every piece of wearable clothing I own (with a few exceptions) with the hopes of learning about my style, my needs, and what I should sew next. It's really eye opening!
Here's what I learned:
I definitely have a few items that I wear more often than others like my one pair of Gap skinny jeans and this loose fit printed t-shirt which is super comfy for hot summers (aka, every day of my life). I also wear another slightly dressy t-shirt often and in the summer I practically live in one pair of jean shorts (even though I don't totally love the style, they're just convenient). I get plenty of use out of a couple sweaters and a couple blazers especially when it's not cold enough for a coat. Of the dresses I've probably worn my Anouk dress more often since I've made it than any other dress I own.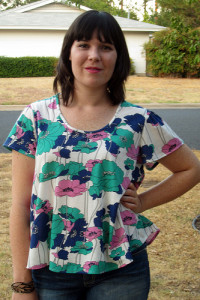 Clothes I wear the least:
Sleeveless anything – because I'm lazy and sometimes I don't feel like shaving. I admit it! Don't deny that you don't feel the same!
Clothes that require extra clothes – like shirts that need a tank top underneath or skirts that need tights or leggings. Or even strapless bras. I don't want to have to track down extra clothes and make sure that they are clean.
Skirts – and I have so many!! I think this is because I am lacking in solid color tops that aren't t-shirts. I feel the need to have nicer shirts to go with skirts – that t-shirts are too plain or something. And I need black or white or solid tops because I have so many darn printed skirts.
Dresses – this is mostly due to the fact that some dresses are too nice for everyday wear. Others are sleeveless and a couple require "extra clothes" that I'm too lazy to dig through a drawer to find. Sad but true.
Gaps that need to be filled:
Long sleeves! I only have two long sleeve shirts in my whole wardrobe. One of which has gotten so much wear over the past few winters that I think my boyfriend wants to burn it and free his eyes from it. Yes, Texas winters are short but occasionally I do leave the state in the cold months.
Nice solid color tops for the above mentioned reasons. Hopefully they will encourage me to wear more skirts.
Pants. For obvious reasons. And for the fact that I love skinny jeans. They are so versatile. They can be dressed up or down; worn with heels, boots or flats; and I don't have to shave. Yay for being lazy but still looking put together.
Everyday dresses which means long enough that I don't feel self conscious, that have sleeves of some sort and aren't too low cut – another thing I hate – worrying if I'm letting it all hang out. It's less of a modesty thing and more of an annoying, fiddling with my shirt, thing. Since I don't have a dress code for work I don't need dark colored shift dresses but I don't want something so casual that I look like a slob. I need cute and comfy dresses that are no fuss.
More blazers – because I really love them but one is showing a little age, one is too hot for winter, one is tight in the arms and my favorite one is denim so I can't wear it with jeans or I risk the Texas tuxedo effect.
A solid color coat. I have one but it's more of a jacket and I don't really like the style of it. I just wear it out of necessity when I don't want plaid on plaid or plaid on stripe since my other coats are plaid.
"Church Appropriate" dresses – this was a need that I think I may have filled. I don't go to church except with family on major holidays – aka Easter and Christmas. Most of my dresses I felt like they weren't church appropriate. All my fancy dresses were either strapless, sleeveless, not the right season(too dark/light) or too fancy or too casual. Now that I made my Macaron dress last year I think I have a good Easter dress and my Anouk dress with its long sleeves and floral makes for a good Christmas dress. Sweet! Something I can check off the list!
So what does this mean for future sewing projects? Well, I'm going to try to pick patterns and fabric that meet my needs. I'm going to stop buying patterns for fancy dresses that I'll never have an occasion to wear. I'm going to clear out my closet of the unwanted items. I'm going to make more of an effort to wear items I like but don't utilize as often as I should. And I'm going to get more use out of every new item I make because I know it will fit my style and my needs and I'll love it!
***I hope this has inspired you to do a closet catalogue of your own (and now I know of some who already have!). It really doesn't take that long. Just go through your closet, then your drawers and finally your dirty laundry. It's a perfect thing to do while you're doing laundry anyway. If you're really ambitious you could take a picture of every clothing item to help you create new outfits you might not have tried. Needless to say, I'm not that ambitious. 😉