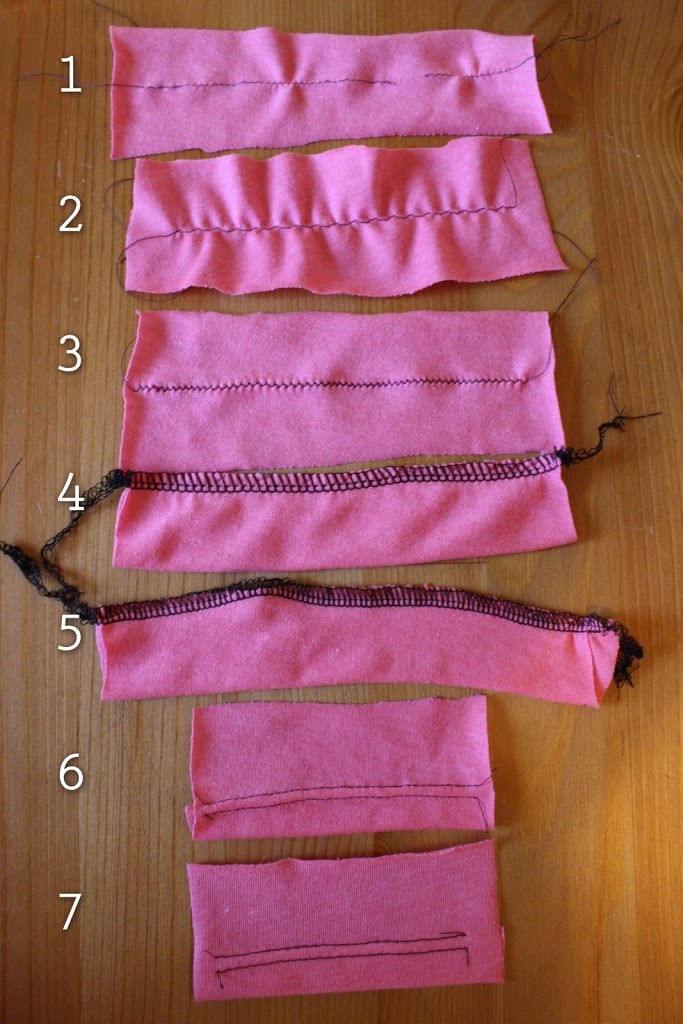 Never Fear Knits Pt 7
What!? We've reached the end of Never Fear Knits?? Well to sum everything up here's some troubleshooting, plus some good books and places to find knits online.
Troubleshooting
Below are possible problems you may encounter in your knit sewing journey…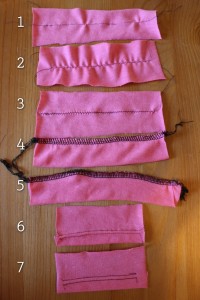 (click on the image for a closer look)
This is why I don't recommend using a straight stitch to sew knits. Here I used a straight stitched then pulled the fabric too hard and the thread snapped!
This might look funny but I used a zig zag stitch with a short stitch width and a long stitch length which produced this puckering. Instead you should make your stitch width and length the same or have your length smaller than your width.
Here I stretched my fabric as I stitched which produced this ripple effect. No bueno! You might find the same problem if your presser foot pressure is too high.
On this piece I had my differential feed set to far to "gather." This made those ripples you see in the fabric.
Here I did the exact opposite. My dif feed was set to far to "stretch" which really stretched out my fabric! As you sew you might notice this problem because the fabric gets pushed around as it goes under the presser foot making it difficult to guide – hence that glitch on the left side…
This is a common problem with twin needles – creating a "ridge" between the stitches. Below is how I fixed it.
I lowered my thread tension slightly and lengthened my stitch length. Then I ironed it which flattened it more. 😉
I hope these help you figure out why your knits aren't looking nice and flat and pretty!
Books and Resources
Sew U Home Stretch – You all know I love Built by Wendy and I also love her approach to sewing guide books. Even if you don't like the designs in this book each one helps to teach a technique in knit sewing and pattern alteration. And who wouldn't want to make their own perfect T-shirt?
Kwik Sew's Swim and Action Wear – Yeah, this book is from like '93 (and it shows!) but it has so much helpful information, especially if you want to make swimsuits.
Threads' A Primer on Sewing Knits – While I don't agree with all the advice in this article (like straight stitch sewing, and btw, when have you ever seen shoulder pads in a knit garment?) this article does have some good points like making nice, pointy, v-necks
Spandex World – is a great website for specialty knits and hard to find swimwear knits.
Fabric.com, Gorgeous Fabrics and Denver Fabrics, as well as many other sites, all have knit sections.
***Thanks so much for reading. I hope you learned something new! I'm going to launch my new pattern tomorrow so stay tuned!