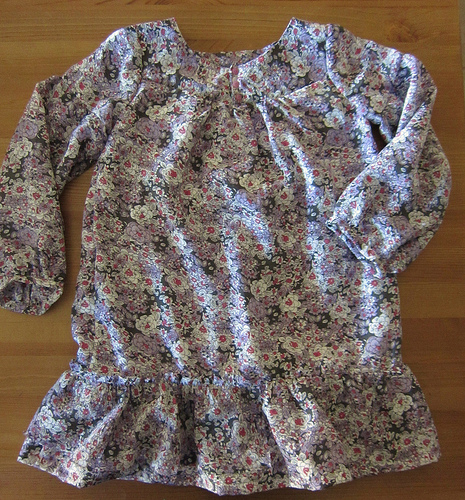 Little Girl's Dress #2 – McCall's 6388
Little Girl's Christmas Present Dress numero dos is completed!
There's nothing like finishing a project to ease some stress. In fact, I'm nearly done with my third dress for my little cousins and after that all I have to finish making is my monster quilt and handmade Christmas can be wrapped up for this year.
I often find it difficult imagining what a pattern could be rather than what it looks like on the pattern envelope. That could be a good or a bad thing depending on the style and models. This time was no exception. I saw the child model and it immediately reminded me of my cousin who is about the same age and looks a lot like the girl pictured. I was sold.
The fabric is a rayon lawn or voile (?). Something really thin so I underlined the body of the dress with plain white cotton. The little buttons are from my stash.
I liked the design details in this pattern – the over-ruffle on the skirt that frays with wear, the front and back yoke, and the gathered lower sleeve stitched to a cap sleeve is a style I've never seen before.
Even though I measured each girl before choosing sizes, of course, no one is a perfect size. With all the work I'm putting into these dresses I am crossing my fingers that they fit!