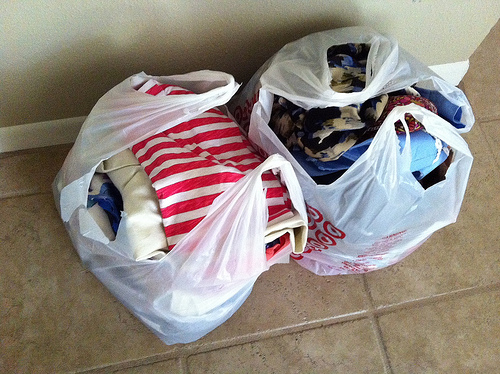 A Tough Decision
I've made a tough decision. I'm donating some of my old handmade clothes to charity.
This is a big deal for me because it is so difficult to say goodbye to all my hard work. These (very stuffed) bags represent hundreds of hours of work and a lot of money and that makes things a more personal than just store bought clothes.
Also, I wonder would anyone want my old stuff? It's not like they're pretty on the inside and there are no size tags but I can't let that unpolished feeling keep these clothes cluttering up my closet.
The clothes I'm giving away are all either really old, don't fit or aren't my style. Basically, if I haven't worn it more than a couple times then it's out. I want my closet and drawers to represent my personal style rather than my handmade disappointments. And most of these garments have been documented on the blog so it's not like I'm completely forgetting about them.
I've never donated my clothes before so I'm feeling a little emotional about it but I'm sure I won't miss these individual pieces. Have you ever given away your hand sewn clothes? Why? How did you feel about it?
Maybe the worst part is that even though I'm giving away so many clothes, I'm still short on closet hangers!