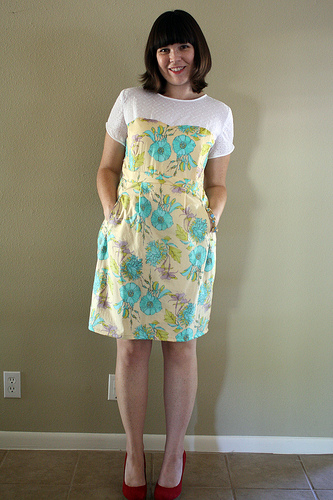 Colette Macaron
Colette's Macaron dress is a popular pattern and there's no wonder why – great design, cute sleeves, sweetheart shape, and interesting pocket placement. I knew I had to try it eventually but I was waiting for the right fabric combo.
And then I found it! Wait, back tracking a little – a few weeks ago I started interning at one of my favorite local fabric stores for a few hours a week. I pretty much get paid in discounts and free remnants and magazines but that's fine by me. I'm really enjoying learning about what it takes to a run a real brick and mortar fabric store.
Anyway, I found these two fabrics at the store. The upper part is a white eyelet and the lower part is a lovely floral voile. Since the voile was semi transparent I underlined that portion of the dress with white batiste. Instead of facings I trimmed the edges of the eyelet with white bias tape for a clean finish.
If I would make any changes next time it would be to add some light interfacing at the waistband. The pattern doesn't call for any and I think with such light weight fabric (even with the two layers) it could have used a little more structure.
I would also take some of the length out of the back bodice. I swear my upper back isn't that round!
Regardless, this dress came out fantastic! With no major need for alterations and a relatively stress free invisible zipper insertion, the hardest part was making the underlining because the pattern isn't lined and I had to figure out how to work in the pockets with the lining.
This is the perfect dress for spring or summer weddings or if I just want to look super cute when buying groceries. And I'm trying to make more dresses because simple, easy to throw on dresses are a rarity in my wardrobe right now. I love this dress so much!