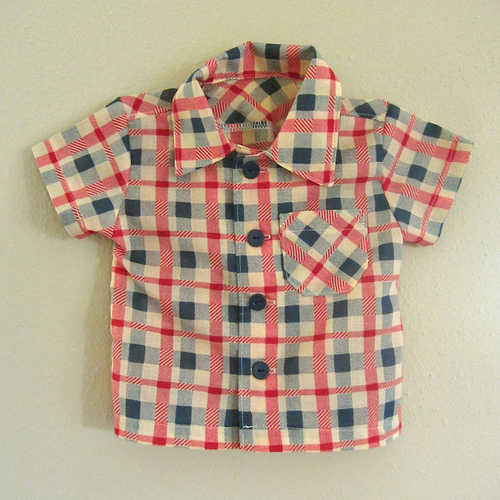 Baby Size Button Down – Kwik Sew 3730
Everyone say "awww!!"
My co-worker and his wife are having a baby next March and they just found out it's a boy. So, keeping with my goal of a handmade Christmas I made them a baby shirt!
This is the first time I've ever made kid clothes and I think this little shirt is adorable!
I didn't know how to display this tiny shirt. Obviously I don't have a baby available nor did I have a tiny baby size hanger so I just taped the shirt to the wall, ha!
The fabric is a vintage plaid I got from the store where I intern. The base color is a yellowy-cream that doesn't come through well in these pictures.
The pattern, which I got for free from the store (sweet!) is Kwik Sew 3730. I liked the pattern because it had 1/4in seam allowances which made it easy to sew with my serger.
I cut the back yoke and the front pocket on the bias for a little extra interest and topstitched my seams.
I made the 3 to 6 months size because I figure they've already accumulated enough newborn size clothes from friends and family already.
I make so much clothing for myself that it's fun to make something for someone else and with a baby I don't have to worry about fitting and picking the right size because he'll just grow into it.
Have you ever made clothes for other people's kids?