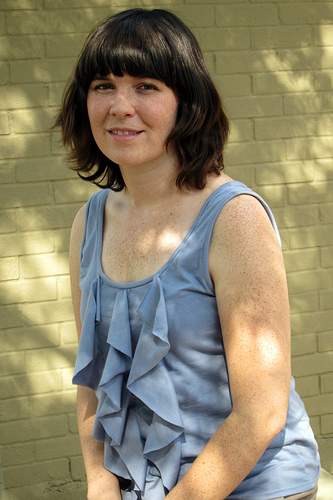 Summer tank top
I think I have a new favorite pattern. I've already made it twice in one weekend! I'll show you my #2 version later.
It seems as though other people on Pattern Review agree with me.
I made this tank top using McCall's 5853 (funny, I can't find it anywhere on the website – oh, wait, I found it under clearance. Maybe they're discontinuing it soon? If you like sewing knits or want to start pick up this pattern is super easy!) and some pale blue poly cotton knit I got from the sale rack at Hancock Fabrics (which I recently discovered has awesome cheap knit!).
The pattern was super easy, just a front, back, arm and neck bindings plus whatever detail you did. The cut is simple with a not too high, not too low neckline and an easy fit.
I picked view D with the flounce in front. On the pattern is has four flounces, three center and one at one shoulder. I cut the shoulder flounce because I liked the symmetrical look.
I admit, I read the directions once through but I didn't pay very close to my markings on my front pattern piece making my flounces be ever so slightly contained in the neckline binding and ever so slightly folded into the hem. Ooops. But that's not a big deal.
I cut a size 12 (rather than a 14 which my measurements would suggest) but sewed with 1/4 in serger seam allowances instead than 5/8 in. I'm pretty sure the pattern said 5/8… If not, then nevermind. Ha!
I realized recently that I need to add sway back adjustments to my patterns but I didn't bother with this tank. I figured with knits it's supposed to look flowy and bunchy and not necessarily look stiff and straight like a woven, right? Any other sway back-ers out there want to weight in on it?
Also, my binding stitching is a little wacky. I kept going back and forth about whether I wanted to do stitch in the ditch or stitch on top of the binding and my thread isn't the exact same color as the fabric (I used some from my stash). Again, not super noticeable but still. I made a better decision on tank top #2.
Oh, and I got to use my new little sewing machine gadget – my twin needle! Which makes for awesome ready to wear looking hems.
I think in the future I might use this pattern as a base for other tanks. Even without the details it still makes for a great simple addition to a summer wardrobe. Plus, one thing I learned from Me-Made-June – I need more cute t-shirts and tops!