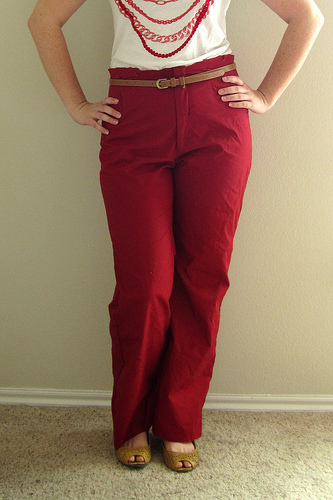 High Waist Pants Muslin – Vintage Simplicity 9629
No, these are not the final pants but I'm just so proud of myself for making pants that mostly fit on the first try. I would have posted this muslin version yesterday but Blogger was down for maintenance all yesterday afternoon until about an hour ago. Lame. Also, yesterday was not a face day. Ever have one of those days when you just don't like showing your face in your sewing pictures? Yeah, yesterday was one of those days.
Anyway, I used the pants pattern from this 1971 Simplicity pattern that was so nicely gifted to me from across the pond by Portia. The '71 pattern had a back zipper. Instead I altered the front flap pieces from an old Built By Wendy pattern (Simplicity 3850, I used it to make shorts once) and made it a front lapped zip.
Here are all the pieces cut out – only three! Not bad. For the fabric I used an old bed sheet that I hated because it was scratchy and for some reason it had the ability to attract dust and hair and fuzz like a magnet, yuck.
I'm going to try to make my first pair of jeans from this altered pattern modeled after these jeans. I'm going to free hand draw pockets for the back and for the front pockets I will follow The Snug Bug's tutorial on welt pockets. Actually, it wasn't until I looked back at her blog did I realize that the jeans I'm using as inspiration are just a pant version of the skirt she was inspired by.
Originally the waist band was even higher but I cut it off before taking these photos because while the pants fit pretty well everywhere else they were too tight at the waist. Removing the wiast band cut off about 2 inches. I'm wearing a belt to give myself an idea of where to lower the waist line on the pants pieces to attach a new waist band.
Other changes I'm going to make. I like the length now as they are (not hemmed) but I'll add a couple inches for the hem. I'll also change the side seam allowances from 5/8″ to 1/2″ just to add a wee bit more wiggle room. Overall I quite like the look! Not too wide or too bell-bottom like. I'm buying denim today and hopefully I can finish them over the weekend.