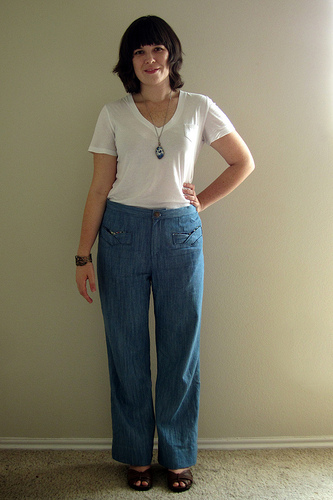 70s Jeans – Vintage Pattern with Modifications
So I didn't exactly finish these jeans this weekend like I had hoped. I had to wait until Monday to sew the pockets but I really like them!
That's one thing I need to work on – learning to accept that it is ok to leave a project unfinished. It will get done tomorrow, I know, but I still unnecessarily stress over it. But now that they're done I think these might be quite popular during Me-Made-June!
I made the jeans with a light colored denim and a vintage 1971 pattern and I used Patty's tutorial for the front pockets. The inside pocket fabric peeks out a tiny bit at the opening. I used leftover fabric scraps for them from my Kite Day Shirt. I also implemented all the changes mentioned in my muslin post, like making a longer hem and lowering the waist by about and inch and a half.
I also added some details like top stitching the inside leg seam, extra top stitching on the back pockets, and top stitching the darts. You can't see the top stitching very well because I used denim colored thread rather than gold thread that many jeans are sewn with. I was worried my mistakes would be too apparent on my first pair of jeans so I went with a safer color.
Not bad for a first pair of jeans! Now I'm itching to make more jeans – maybe some skinny jeans? Something a little more modern and less vintage. Wow, thinking about it – I don't ever have to buy jeans again if I really don't want to. I could just make them!