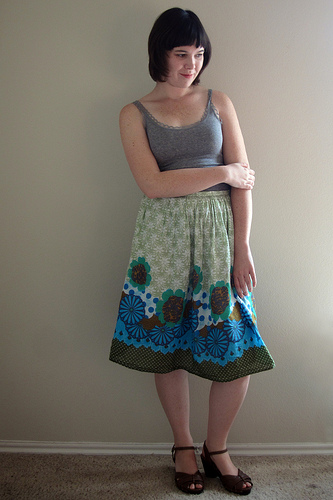 Dress to Skirt Restyle
There's nothing like writing down a really long to do list to give you motivation to finish projects.
Yesterday and today I tackled making a skirt smaller (in my mending pile), adding a braided string belt loop to my paper bag skirt (the belt kept slipping up off the back of the skirt whenever I sat down), working on a muslin for a dress and I bought a new pillow and some lace trim to use for a pillowcase I plan on making.
Also included was this little restyle (another from my mending pile). It began life as a pretty terrible dress which had a broken zipper (I must have attempted to sew myself into this dress at some point because it had hand stitches along the zipper). I haven't worn it in years I have no idea why I bought this dress. It was ill fitting, not because it was the wrong size but because it was so poorly made that the bust lining didn't fit into the shell fabric. The fabric was cheap and thin, the straps were flimsy and the back elastic was droopy. That, and I should just never wear empire waist dresses in general.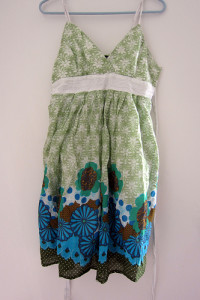 Anyway, it was either fix the dress or toss it so I tried my hand at fixing it. I used the bodice fabric to make a very narrow waistband and added some interfacing. I didn't feel like hemming or gathering anything so I trimmed the skirt portion off at the waistband of the dress so that the white lining underneath and the green top fabric were still attached together. That made it easy to slip on the waistband. Then I added a new zipper and voila, all fixed!
Because the dress had an empire waist it made the skirt almost tea length. I kind of like it. And the pattern makes it feel almost 70s.
I have to go back to the craft store again tomorrow because I forgot I needed to buy a zipper for my muslin and also one for my pillowcase. Ugh. But at least I am making progress!