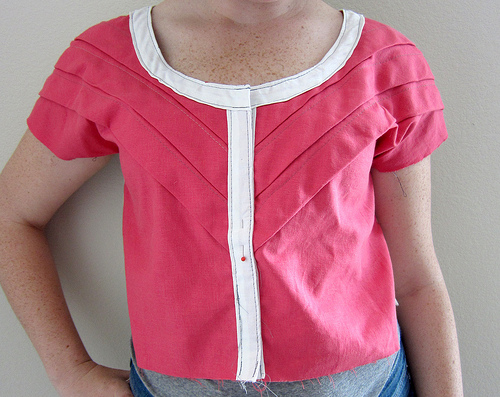 Muslin 2.0
Here is version 2.0 of the top half of my dress I'm working on. I only made the top for now because I knew the skirt portion would be easy.
I scrambled together four different types of fabric to make this although you can only see two in the photos – the pink and the white. My stitching on this is pretty atrocious as well but it's just a muslin so no big deal.
Things I want to change:
I like the shape of the neckline but I want to raise it up so it isn't as wide and it can show off the top fold.
I haven't added the sleeve cuffs yet but I can tell I want to shorten the sleeves slightly and also I'll need to open the sleeves up more at the side seam.
And the pink fabric is some kind of linen blend and is way too thick for this application. I'll make a note of that for when I make the final version.
I want to lower the back yoke more (oops, forgot to take a picture of the back)
In general I need to adjust the collar pieces.
It is always the details, isn't it, that cause all the problems? I need to find more fabric to make muslin 3.0 because I have no more big enough chunks for the skirt and front pieces.
Other things I did today – I went to Shop Crafty, a craft show event here in Austin. I stopped by the Stitch Lab station and made a felt patch.
Here's Justin helping me cut. He's a good sport.
I'm going to try my best to do more work on muslin 3.0 tomorrow. I hope I can keep up my motivation!