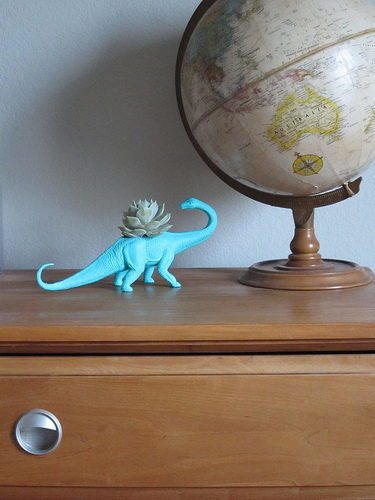 Dinosaur Planter – Dinosucculent
A friend and I met up for dinner last night at a hip part of town. Only when I hit traffic that I realized it was First Thursday, an event held on the first Thursday (obviously) of every month in which dozens of artisans and street musicians fill the sidewalks and parking spaces along a main thoroughfare in Austin. Cool businesses stay open late and food trailers abound. Naturally restaurants are packed and the only parking available is that of the slightly illegal variety. ("No, officer, my car wasn't blocking that fire hydrant. I swear!")
After eating some yummy burgers and Dublin Dr. Pepper we wandered around the craft and art tents and found this company.
I had seen these dinos before online but I didn't know they were from Austin.
I walked away with this cute little guy which I call a dinosucculent.
It's a painted, hollowed out dinosaur toy with a little Echeveria succulent planted in it's back. Drilled on the bottom are drain holes. They have other dino and animal figurines as well.
I love succulents because they are pretty and easy to care for and I love that this little guy is looking back on himself wondering whether or not to take a chomp at his own spine!
I'm going to bring this little guy to work to spice up my desk.
When I first found these little dino toy planters on the web I added this exact one to my Pinterest page. If you've never seen Pinterest it is a sharing site similar to We Heart It only with a better interface, I think.
You have a board (some kind of topic like summer or accessories) and then you pin things you find on the web to your board. I'm using it to clear out all of my random bookmarked websites and images. You can also follow other people's boards or just browse for information.
You should follow me and if you need an invite just leave me a comment with your email address or email me if you don't want to share yours. My email is on the side bar on the top right.