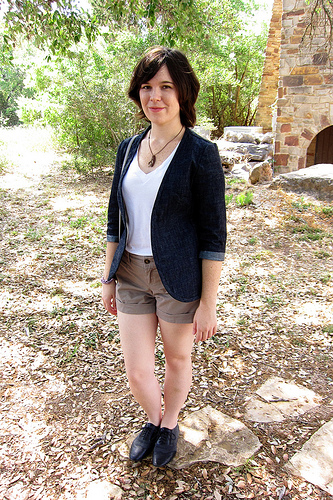 Cynthia Rowley Denim Jacket – Simplicty 2250
For a little pre-birthday outing, Justin and I ventured to the Lady Bird Johnson Wildflower Center in South Austin. It is a lovely place full of native Texas plant gardens, streams, meadows and nature trails. Unfortunately, my camera battery died shortly after taking these pictures. At least it had enough juice left to grab a couple shots.
Anyway, at the fabric store I went through two different bolts of blue fabric and there wasn't enough fabric left for this jacket on either bolt (I wanted just the right blue color). In the end I settled on using what was left on one of the bolts and figured I'd make it work.
When I got home I found that I had enough fabric to cut out all the pieces except for the inside facing in front. The jacket isn't lined except for the very front panels. Instead I used some old striped cream fabric that I had leftover (yay for using scraps!) for the inside. I like the contrast.
I chose not to make the belt (I probably didn't have enough fabric anyway). Plus, with the two layers of fabric and one layer of interfacing in front, tying a belt would have made the fabric bunch up in an unflattering way.
I also chose not to add the shoulder pads because well, I'm to lazy for that. But it's okay because the jacket is stiff enough without them.
I made the dress from this pattern a couple weeks ago but while the jacket was a success the dress was most certainly a fail.
This jacket is so simple and it took me less than a day to make it from start to finish. Too bad it's going to be too hot to wear it outside soon.
Oh, well. I'm off to make birthday cupcakes now. Don't forget to enter the vintage pattern giveaway! One day left!