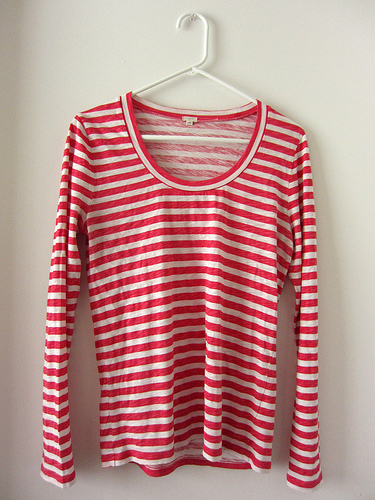 Striped Shirt Restyle
I bought this shirt from the J Crew outlet a couple years ago and at first I liked it but after a few weeks I started to get a sinking feeling about this top. I bought it at a time when I needed a lightweight long sleeve shirt for Texas' mild winter and thought this fit the bill. The first sign that something was wrong was when I seriously considered being a pirate for Halloween and using this shirt as part of the costume.
So now every time I wear this shirt with red and white stripes all over me I can't help but feel like a pirate… Or a Venetian gondolier… Or a mime…
So this problem must be remedied somehow and I decided to take needle and scissors to this top and see if I could turn it into something wearable and less embarrassing.
First I chopped off the sleeve length making sure to keep an extra inch for a hem. Originally that was all I was going to do but I took it a few steps further.
Next I pulled the the upper part of the sleeves away (they're still attached to the side seam at this point). I cut off the upper portion of the shirt and replaced it with a white jersey section over the shoulders. I made a boat neck opening and didn't need to make a collar.
I used the piece I cut off as a template for my replacement pieces. Where the front and back boat neck openings meet I wanted the two sides to slightly overlap so I extended my fabric higher than the original shirt pieces. So this is my new piece of fabric with my old front piece on top of that and my new back piece on top of that to copy all the necessary curves.
I would have liked the front piece to be smaller but because the original neckline was so low my new piece also needed to extend lower.
I attached my new pieces to the main body of the shirt and then re-attached the sleeves.
Above you can see where the new white serged edge meets the original red stitching on the sleeve.
Finally I stuck a few military style buttons on the shoulder for decoration. I was looking for some anchor buttons but when I didn't find any I thought that was ok because anchors might have played up the nautical theme a little too much.
So with a little tweaking I now have a shirt that is much less Captain Jack Sparrow and much more Mediterranean Yacht vacation… yes? Maybe? Well, at least now I don't look like a giant candy cane… Or a barbershop pole… Or Where's Waldo… (if you can think of any more, please humor me in the comments!)